Just under a year ago, Towerbank announced publicly they'd open accounts and facilitate fiat banking services(i) for people who use math and electricity to communicate value, y'know Bitcoin.(ii) At the Blockchain Summit here July last, they announced they would, at some point in the future, accept Bitcoin as collateral for fiat loans. Then, in the autumn, they partnered with Rodrigo Icaza and his Blockchain Space to convert space in their El Dorado branch office into a coworking area, called Towerlab, where they'd be holding regular educational and networking events. Jacob and I were invited to an inauguration event the last week of January at which point I learned, along with others in the audience,(iii) I'd be giving a presentation on the Fundamentals of Bitcoin on March 23rd.
Here, they made a flier :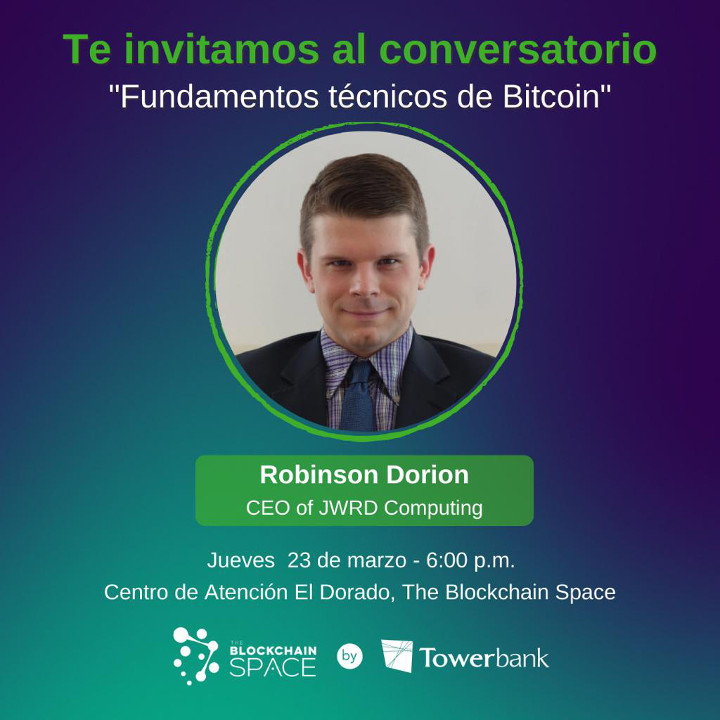 Let's breakdown further these aforementioned fundamentals :
How do Bitcoins come into existence ?
How are Bitcoins stored and transacted ?
How are disputes resolved in a decentralized, Peer to Peer, network ?
What protocol risks does Bitcoin face ?(iv)
Why is Bitcoin the strongest extant system for protecting property rights ?
If I want to be the best Bitcoiner I can be, how should I go about it ?
Logistics
Time & Date : 6pm on Thursday, March 23rd, 2023
Location : Towerbank, Avenida Miguel A. Brostella, El Dorado. Here's a link to g00gle maps.
Format : 45 minute presentation followed by Questions, Answers and Networking.
Language : English.(v)
Cost : free, open to the public, though the space is limited to about 50 people, so RSVP ASAP.
RSVP : submit the JWRD Computing Contact Form or use Eventbrite.
I'm looking forward to seeing you there. Salud !
Update : the video recording is now available for download (part 1 and part 2), as well as the presentation slides.
And a pic, minus a few of the camera shy :