Jacob came for a visit last week and we took advantage of the cold weather and recent snow to turn skis down Pico Friday and Saturday afternoons. It was my first time on alpine skis since December 2017 and my first time at Pico since about 2013. Pico is about 14km from Rutland, so about a ten minute drive from my driveway on the east edge of town.(i)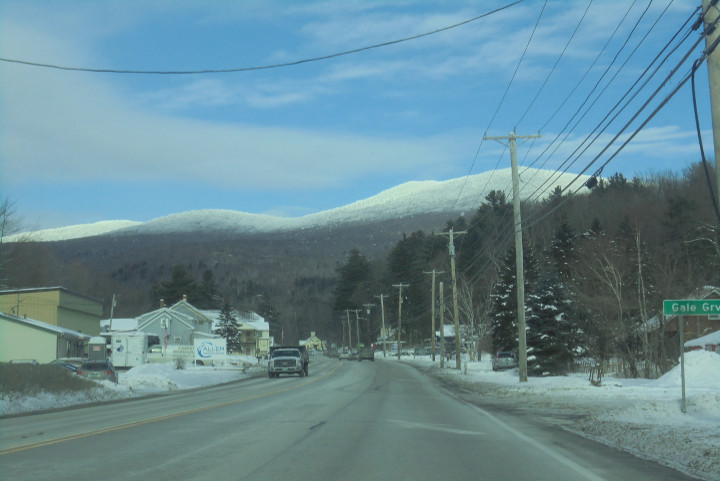 Above is a look at the snow capped peaks of Mendon and Chittenden and a Gale sign from Route 4 East in Mendon.
Below is the first peek of Pico, coming in hot from the northwest.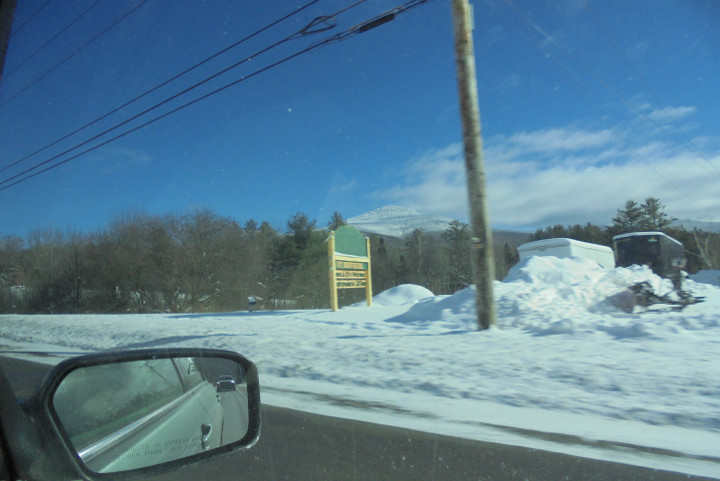 A look at Giant Killer through the power lines and pine trees.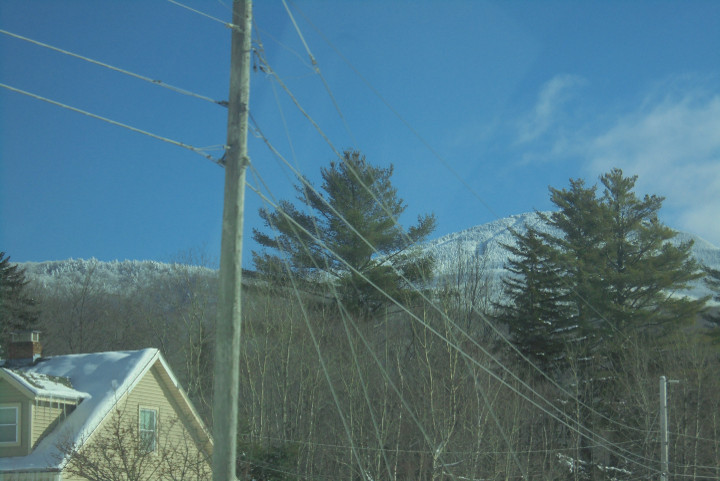 I'm more of a sprinter than a jogger, so I've never found myself jogging on the side of a highway, but here's a hat tip for the chica running on the coldest day of the year. It was about -16 degrees Celsius, but with wind chill the weather people said it felt like -25 degrees, not sure if they were measuring in the sun or shadow though, they didn't say.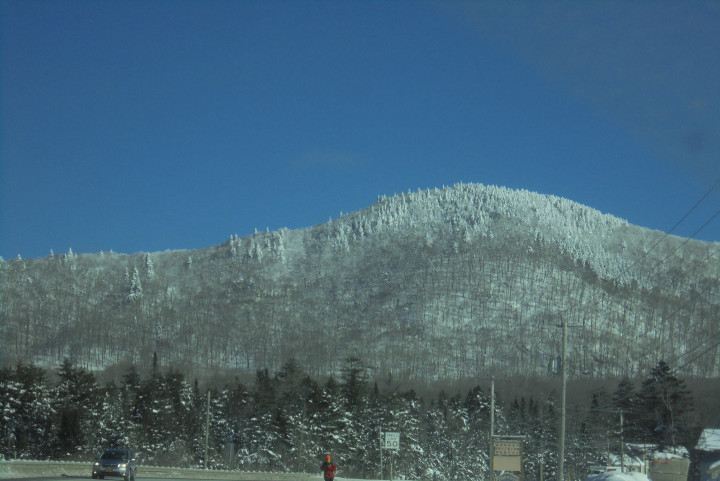 The town of Killington was chartered in 1761 and the Pico resort was established in 1937, the 4th oldest resort in Vermont after Bromley, Stowe and Suicide Six. It boasted the first T-bar lift in the US in 1940 and a two time gold medal winner from the 1952 Oslo Olympics in Andrea Mead-Lawrence of the Mead family who founded the ski resort.
Pico is the mountain I first learned(ii) to ski on starting when I was about 5 or 6 years old, which is about when it was bought by the neighboring Killington, which rises 5km further south. Killington has 155 trails(iii) and rises to a peak elevation of 1,289m while Pico has 58 trails and rises to a peak elevation of 1,209m. Big mountain terrain, small mountain charm, as they say.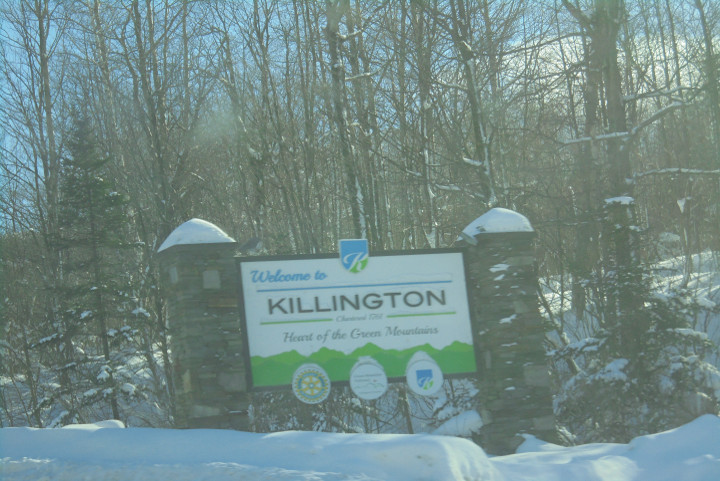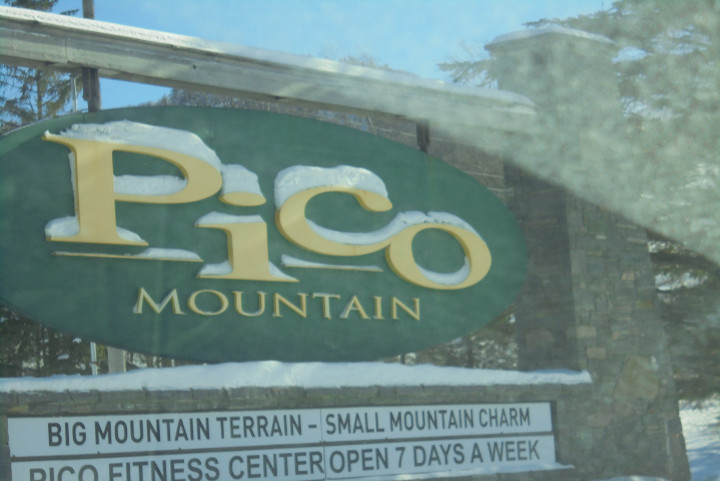 A look at the cliff the locals call Deer's Leap, which juts out to the northeast of the base lodge. For all the times I've driven past it, I have never once seen a deer trying to jump from it. YMMV.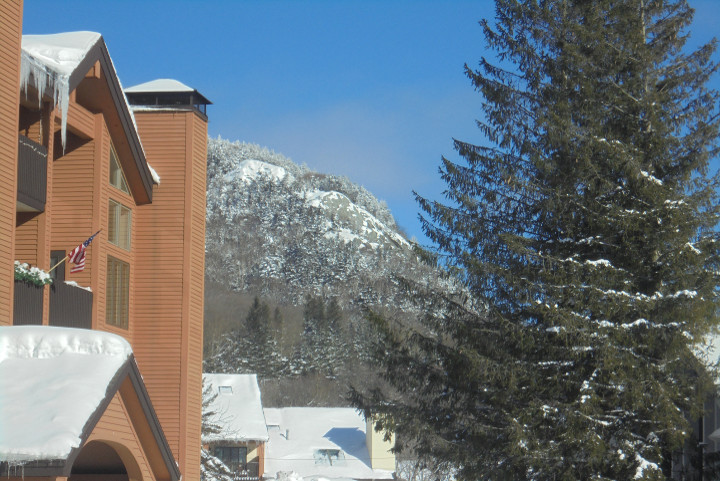 A look at the trail map.
We took the Golden Express Quad and skied Fools Gold to get warmed up to sit down(iv) on the Summit Express Quad's mid-mountain station. As fortune would have it, less flatlanders were willing to bear the cold leaving us with short lift lines and open trails. On our first run from the top, we took 49er to Easy Street to cross the top of Mid Pike over to Birch Glades, the top of which is pictured below as my background.
Jacob waves, Hi!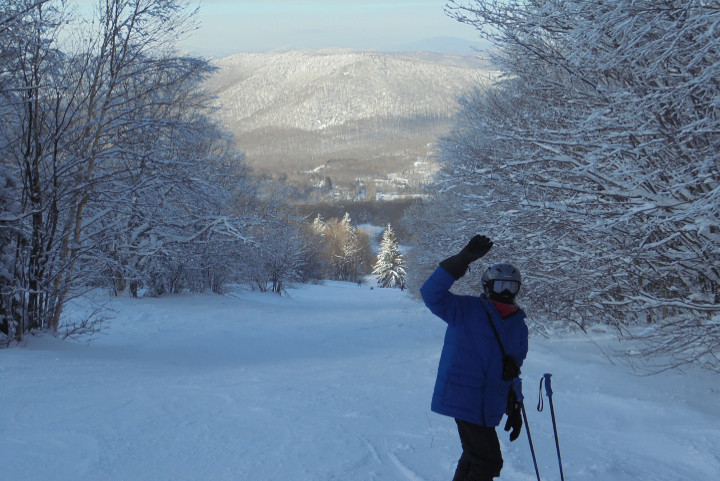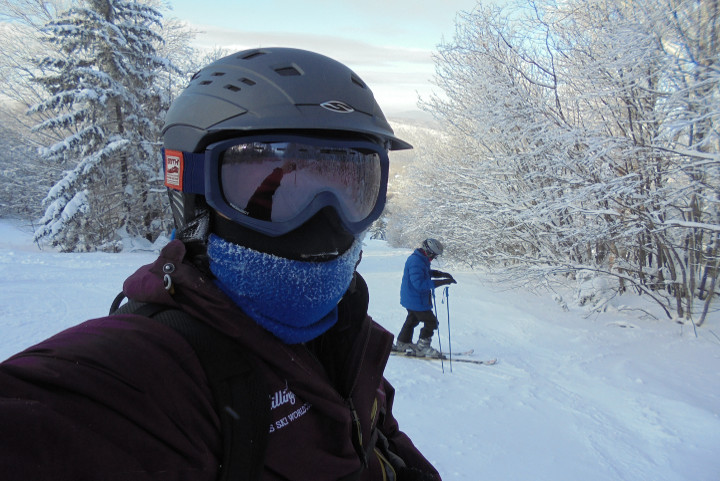 We started down Birch Glades as a warm up because it's a nice wide, ungroomed blue square trail that's not too steep and has small clumps of birches scattered down the trail with tiny trails blazed through them.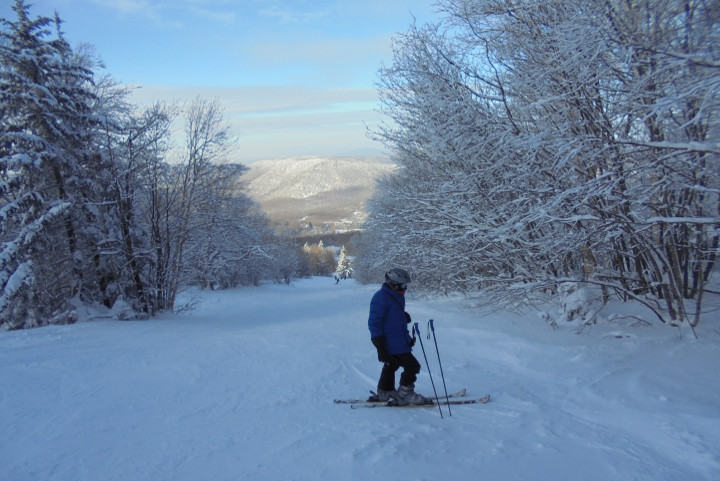 Jacob cruising Mid KA, which is a black diamond at the top that turns to a blue square in the middle and bottom that's moderately steep and tight, but rarely has bumps or moguls.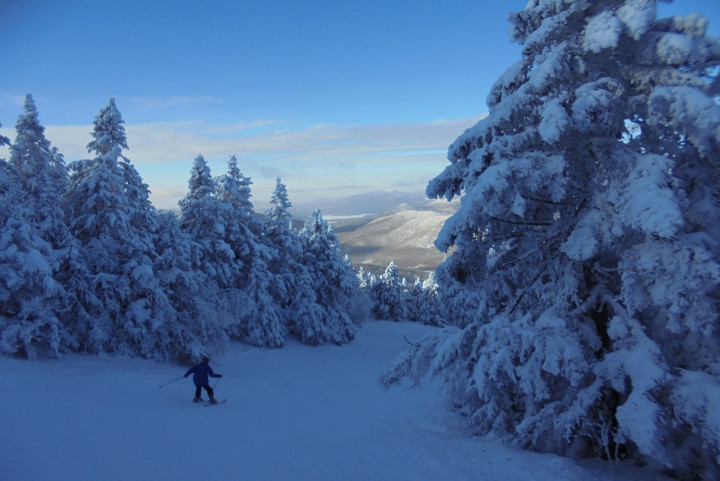 I started with a Gore-Tex(v) mask because there was a frost bite warning, but then the nose started to freeze from the moisture in my respiration and I realized it wasn't that cold anyways. A look down Sunset '71 and the frosty trees.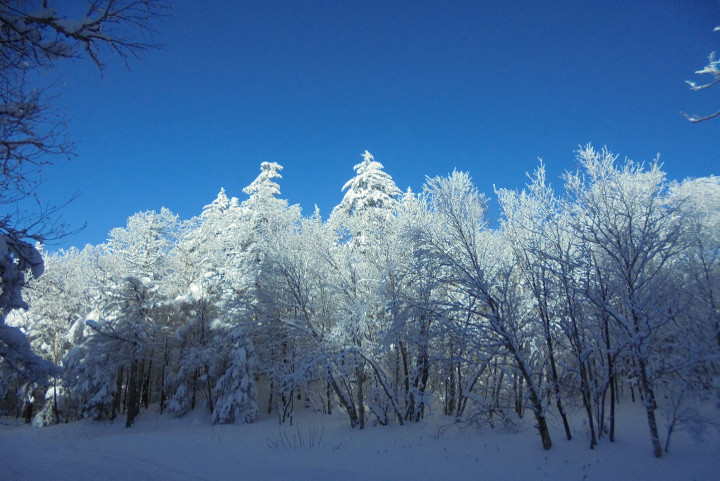 JW
RD
Above and below are lower Summit Glades. The top of Summit Glades is a tight black diamond with bumps and trees that flattens out toward the bottom.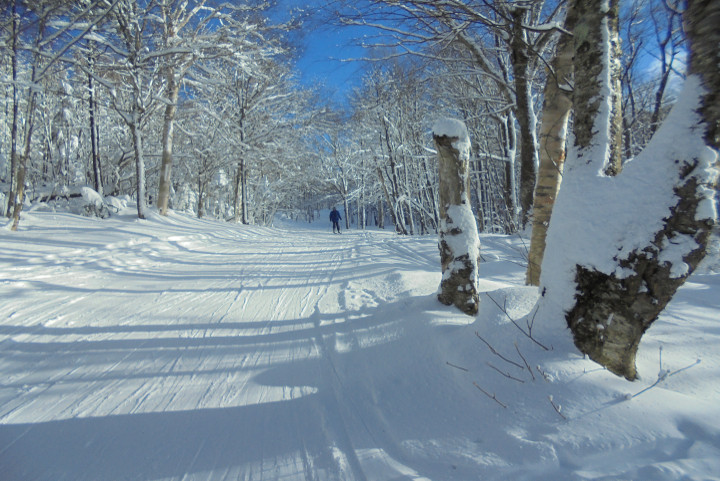 A view from the top of 49er with Jacob uncrossing his tips in the foreground and eastern Vermont and Western New Hampshire in the background.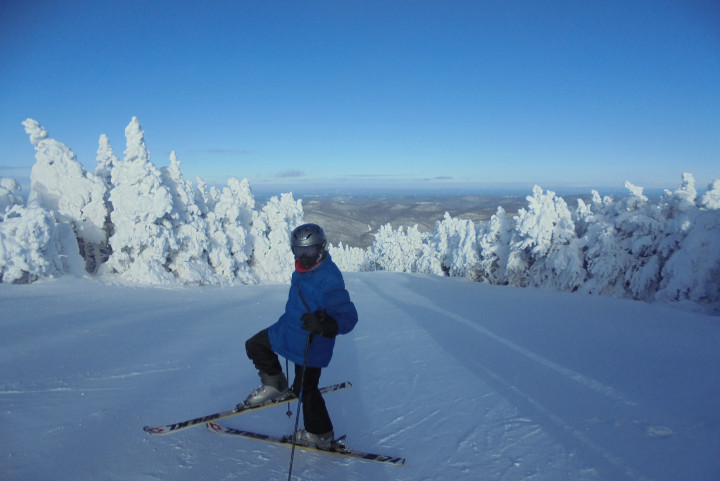 Headed up the Summit Express with the Upper Pike below, snow covered frozen Spruce trees to the left and right and the afternoon sun setting.
Chittenden and its Reservoir to the north.
A look down 49er as we approach the afternoon golden hour and the winter purple of Vermont's green mountains darkens.
The Outpost chair is a fast moving double that was the Mountain's first. It wasn't opened Friday, but we had plenty terrain to cover at the top. On Saturday we headed over there after ripping the Pike from top to bottom as a warm up. Sidewinder is a narrow, steep and bumped which we took first and turned out to be the toughest in my book on the weekend. While struggling your way down some steep moguls it's always refreshing, let's say, to have a couple kids cruise by you with their father as as he talks them off the wooded ledge not because the 4 year old can't ski it, but because it goes down to a flat area below the closest lift and they don't have their skins(vi) with them to walk back. I did two more runs on Bronco, which is bumped and steep, but very wide. After observing another waist high skier pick her way down on a more horizontal line on the first run, I enjoyed Bronco much more on the second by taking my time and using more of the trail. Instead of jamming a turn every mogul or two, I started taking them every four or five making the trail and my form last longer.
We went back to the top for a couple before Jacob wanted to head to the base lodge for a Belgian waffle. I took the opportunity to see how quick I could ski the Pike from top to bottom. I made it in 3 minutes and 20 seconds without stopping(vii), but certainly with some big recovery turns mixed in to maintain my control and stamina while pushing my limits against the clock as I transferred my weight and balance from one set of edges to the other and my vision scanned between the next turn or three and the beautiful view across the ski and snow covered hills in the distance below. It wasn't a race, but I managed to get back to bottom before Jacob had his skis back on. We took a few more runs and made it back to town refreshed and in one piece. Peace for now.