After an extended hiatus from the Simple Steps series, I'm pickup up where I left off in School Spirit to start filling in The Fabled Outlines. This article primarily paints the backdrop of the picture of the life I lived during my 22nd year, 2012. Future articles will cover the actually causes I was working from, the output of which was primarily the work I did with Euro Pacific Bank, what I learned, etc.
Disclaimer: This is another mega-photo article, I hope all the pics didn't crash your browser.
The Investment Consultant position(i) with Euro Pacific Bank I'd applied for back in early January wasn't officially offered until early February.
The interim involved deferring the transfer admission to George Mason Univeristy and a sit down interview with Peter Schiff at his Westport, CT office(ii). He shared with me that he'd taken time away from university to work as well prior to eventually graduating. We spoke for at least an hour about his plan for the bank. It was mostly him talking, I didn't ask many questions as I wasn't in the mode of actually considering the offer, I had already decided I wanted it(iii).
Once the offer was made and contract signed(iv) I made a day trip to the New York Euro Pac office to shadow an entry level broker, made travel arrangements with two other hired hands I'd be moving with, packed my belongings(v) as if it'd be my last time at my childhood home and on US soil(vi), took Amtrak from Vermont to New York City February 29th for the March 1st departure from JFK to Barbados(vii).
The other hired hands I made the move with were Ashe Whitener(viii) (archive) and James Guzman (archive). As Ashe and I were boarding, we shook hands for the first time and pretty much simultaneously he received a call. It was James, he was at JFK, but too late for security to allow him through and he'd be catching a later flight. Ashe hung up, relayed this to me and followed through with, "I don't give a fuck, I'm not here to hold hands." "Hah, neither am I," was my reply.
We(ix) arrived to Barbados and received a 30 day tourist visa at the airport; stayed in a hotel for a rather annoying(x) week house hunting until managing to rent a house near Holetown on the Leeward side.
Below is James outside our 3 bedroom, standalone crib, I'm in the background locking up.
We settled in and started to learn what the bank was. I'll get to that in an article to come, but Barbados turned out to be a short term stay. You see, three weeks in, we went to immigration to renew our tourist visas and promptly had our passports confiscated. Yeah, that's right. We returned to immigration a day or two later and were interrogated in the basement to learned they essentially had pinned us as narcos ; paraphrasing :
"What're three early to late twenty year (xi) old gringos doing wanting to live on our island? We only want retired, baby boomer gringos."
They didn't want to hear the truth, which we backed with documentation, that we worked for a foreign bank. They presented us a catch-22 and required us to have work visas to stay; given we didn't work for a Bajan company, it would've required us to form such a company and then apply for their "work"(xii) visa.
By that time we had been referring to it as Barmalos(xiii) anyways so said what we had to say to recover our passports and were on an evacuation flight to St. Vincent and the Grenadines within a few Earth spins.
The volcanic island of St. Vincent was a polar opposite(xiv) to the flat dinner plate of Barmalos.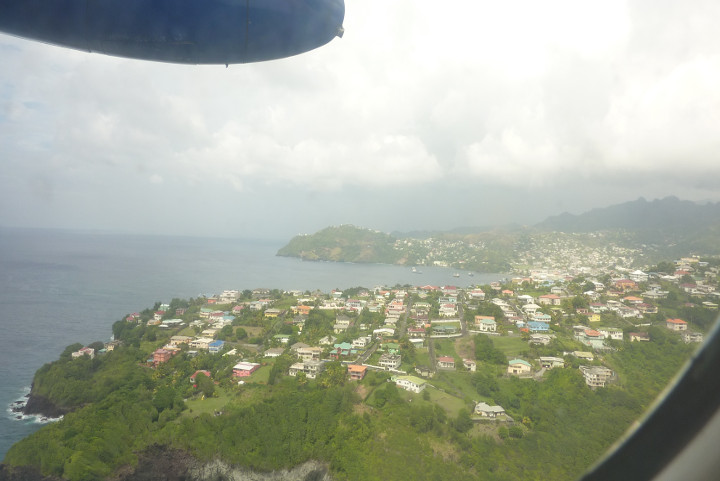 Above, areal view of Kingstown ; below, view of Kingstown from the harbor. A shade over 10% of the island's 130k people live in the town. The bank had an office there, but we worked from home and pretty much only went to the office once a month to pick up our cash (xv).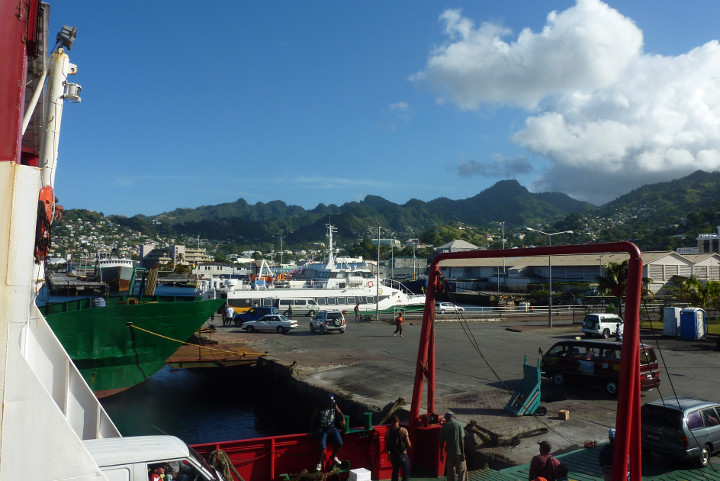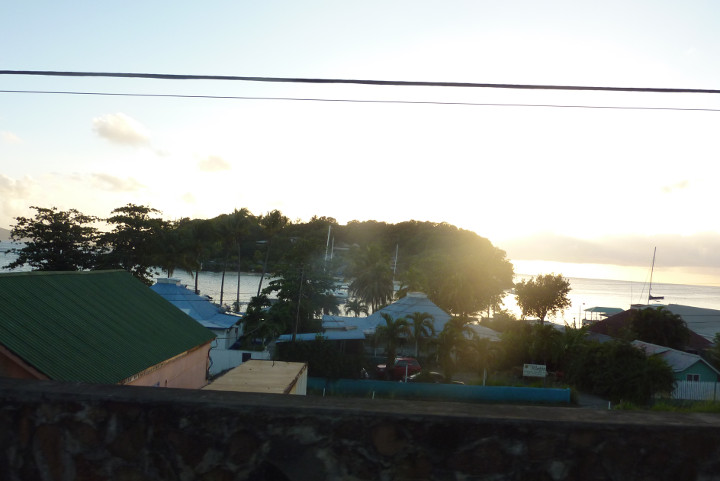 Above, the luxurious Young Island just off the southern coast. Below, demonocracy slogans...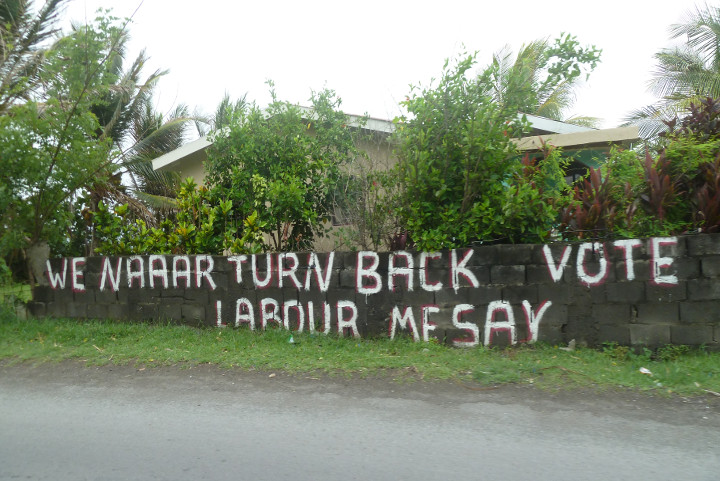 Unlike Barmalos, since the bank was headquartered there, we had connections on the ground from the jump in the form our drivers "Pops" and "Goldfinger"(xvi). We also had connections reaching to the top as Marcus Ballantyne, the son of the Governor General, was the registered corporate agent for the bank and its mutual funds.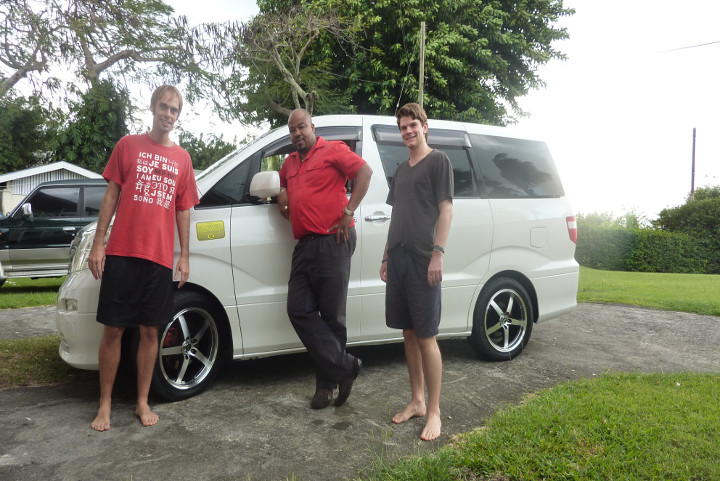 Above, Ashe, Pops and yours truly. Below, Robert, a.k.a. Goldfinger. Goldfinger picked us up every Sunday (the only day we didn't make calls) to bring us to the grocery store and back.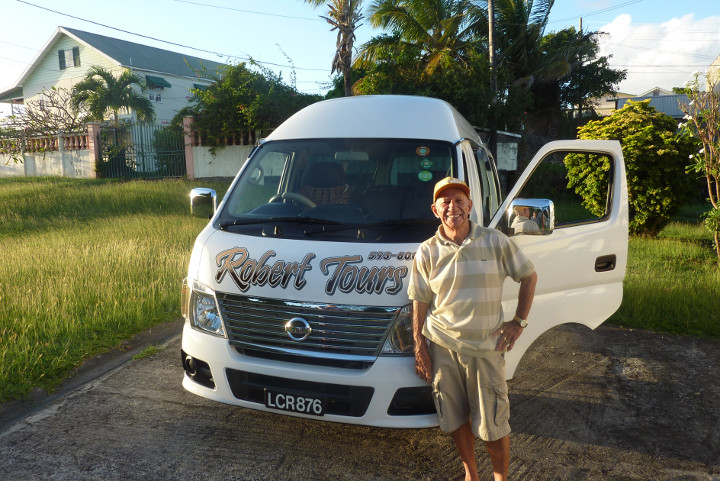 You're probably asking why Mark didn't recommend we domicile there out the gate. In one part, he didn't want brokers domiciled there and in another, his gringo baby boomer tastes seemed to favor Barmalos. The reason he only wanted admin there and not brokers was because in theory there would be labor laws applied to us. We simply worked from home and didn't tell the bureaucrats we were working. Then we didn't go back to renew tourists visas, stayed illegally and paid the $10 or whatever it was in December when we left.
Anyways, the bank covered our flight and first month at the Prospect Point Racquet Club on the southeast corner of the island, about 30-40 minute winding drive from Kingstown. "Once you're home, you're home," noted Pops upon our initial arrival.
Mark had booked us a two bedroom, two beds and a cot place at the Racket Club the month of April while we looked for more permanent accommodations. Mark had claimed business people stayed there, and we let him know how pissed we were he'd set us up in a dump over the phone the hour we arrived ; hence our renaming it the racket club. After being asked to leave one shitty island, being kept from making calls, and a month facing the reality of how poorly Caribbean islands are provisioned with food, "Our pet's heads were falling off" and we didn't exactly have the presence of mind to notice the windows were open and our shouts were pouring into the kitchen of next door neighbor, who happened to be the owner, lol.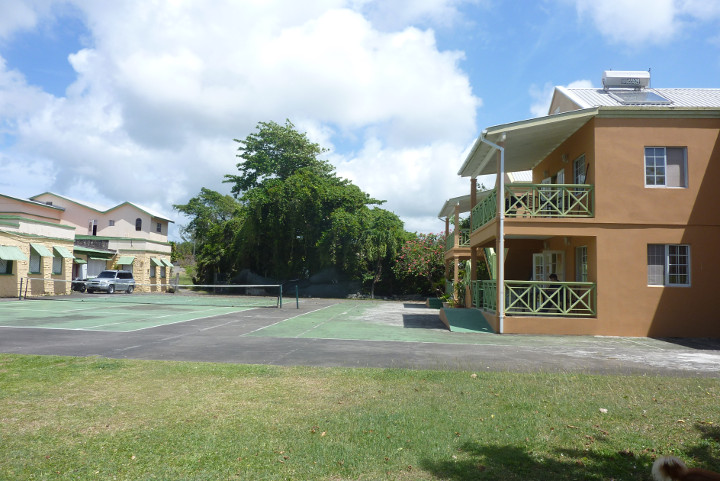 Above, our unit was on the first floor of the building to the right. Below, yours truly making calls from the porch.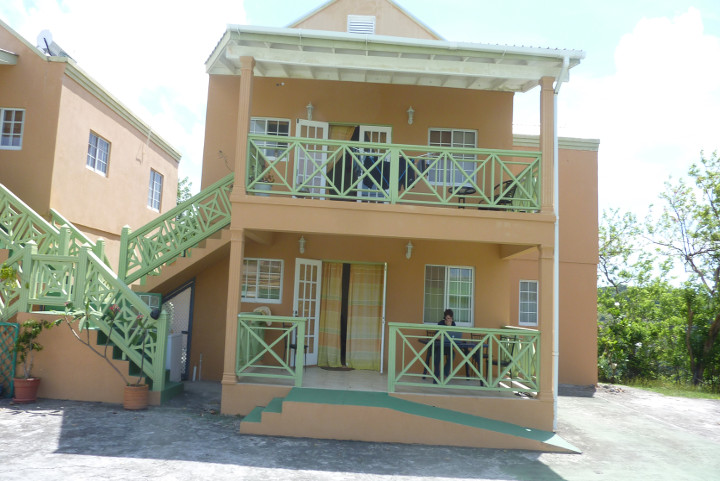 At least two good things came from the racket club. On the one hand, our future landlord was a member and that's how we met him. Other places we looked at were not nearly as good as the place we landed with him. On the other hand, we met Cecilia, the lady that ended up cooking us lunch every day the remainder of the year, who lived on the premise.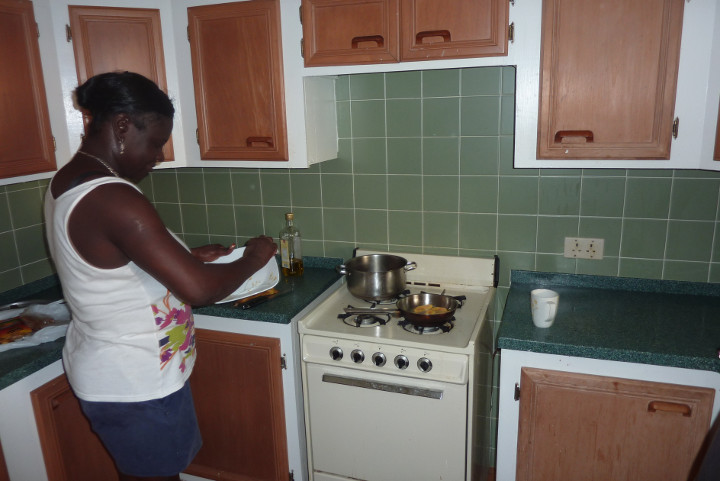 Cecilia, above and below.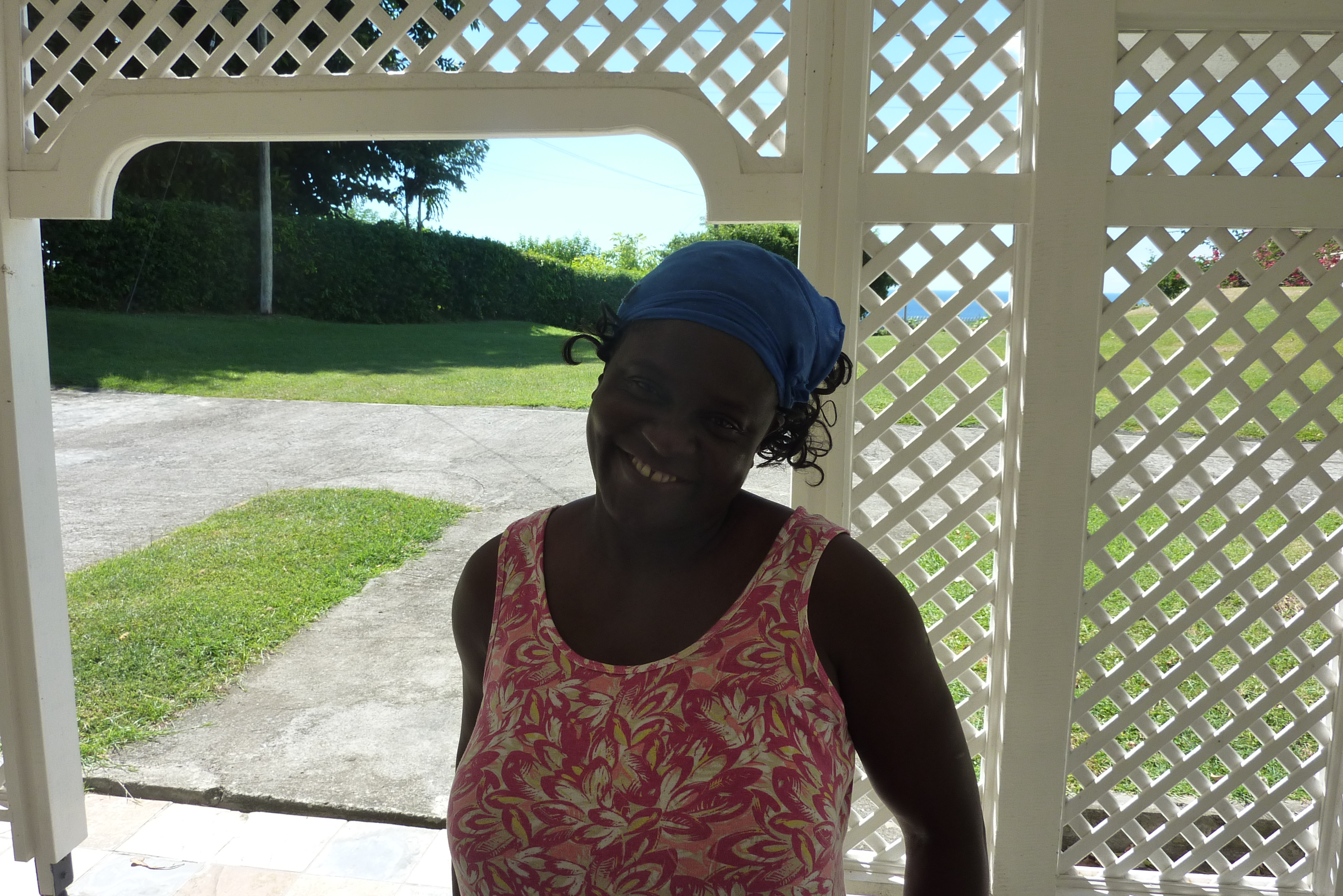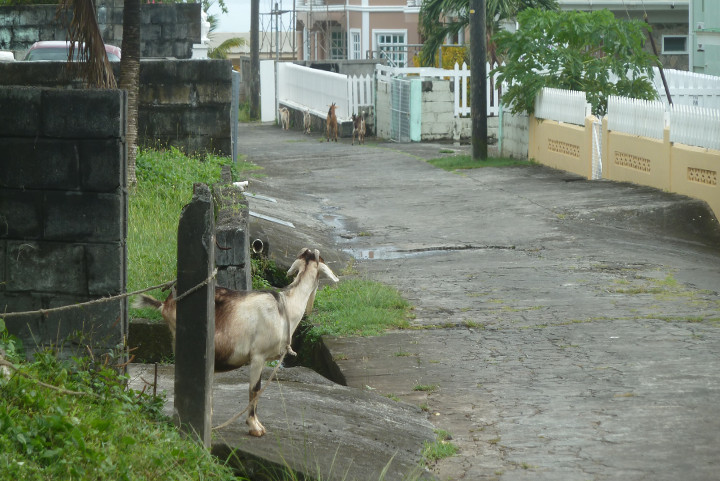 Above, a goat tied to a post. Below, guard dogs on high ground ready to pounce.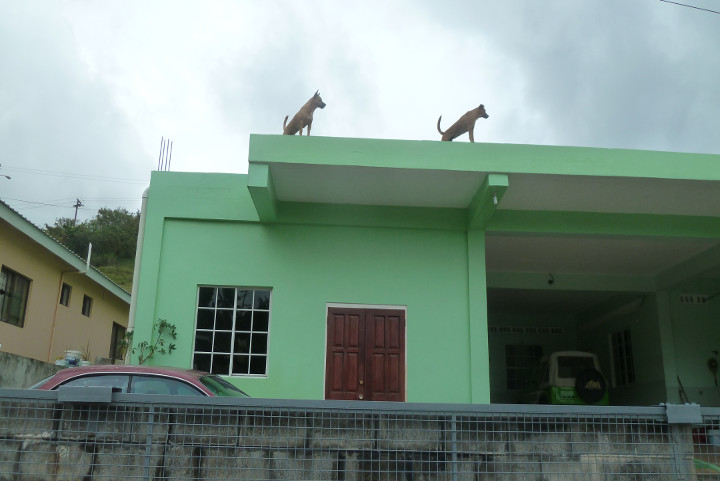 Despite the struggles, we had settling and it was really a beautiful time in my life. On the one hand, I had a lot of enthusiasm, but up until that point, no one really to share it with. Ashe and James had been studying Austrian economics, libertarianism/anarchocapitalism, etc. much longer than I had so they were like the older brothers I never had. Plus, everyday I was talking to people all over the world about a solution I genuinely thought was in there best interest to utilize.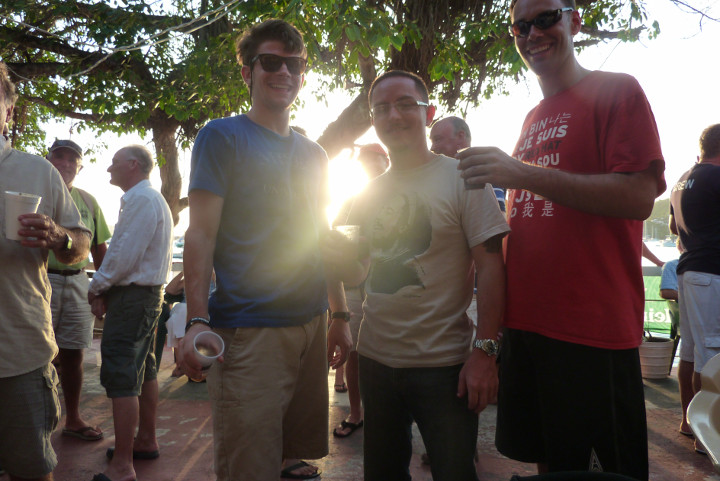 Above, myself, James and Ashe on Easter weekend, 2012. We took a ferry 15km from Kingstown to the second biggest islands, Bequia, where they were having a regatta.
Below, Ashe. He grew up in the Charlotte area, N.C. His Dad and Grandfather worked on engines and motorcycles and being from stock car racing central, one of his first jobs was with a NASCAR team. He was an Eagle Scout and was laughing at me and James for not bringing flashlights with us to the islands. Being a teen of the 90s, he was into computers and says he was on Napster the first time it had 100 simultaneous users. He studied electrical and computer engineering at NC State (hence the wolfpack gang sign he's flashing) and worked 6 years as a support engineer at SlickEdit, a licensed IED, in the Research Triangle Park(xvii) in Raleigh prior to making the jump to the bank.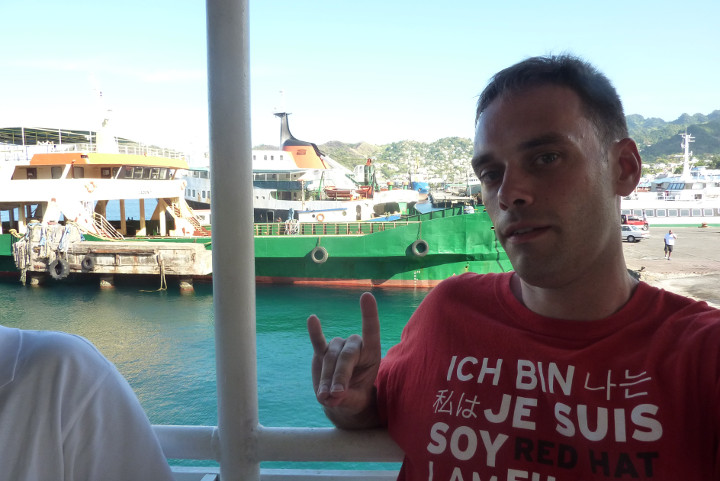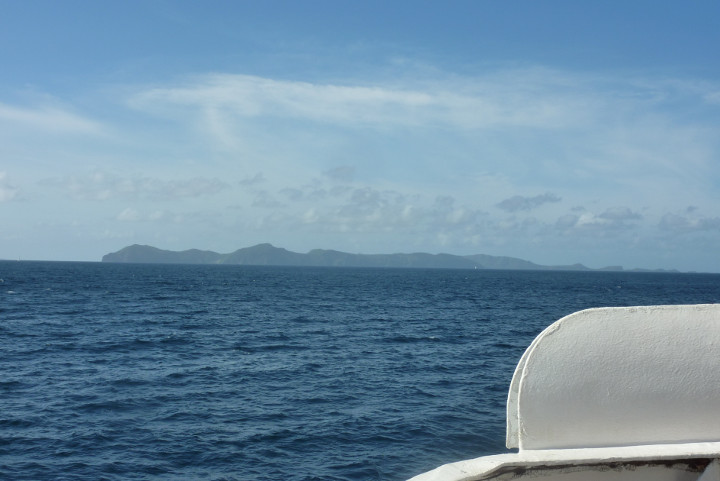 Above we make our approach to Bequia. Below, some structures carved out of the rocks on the south end.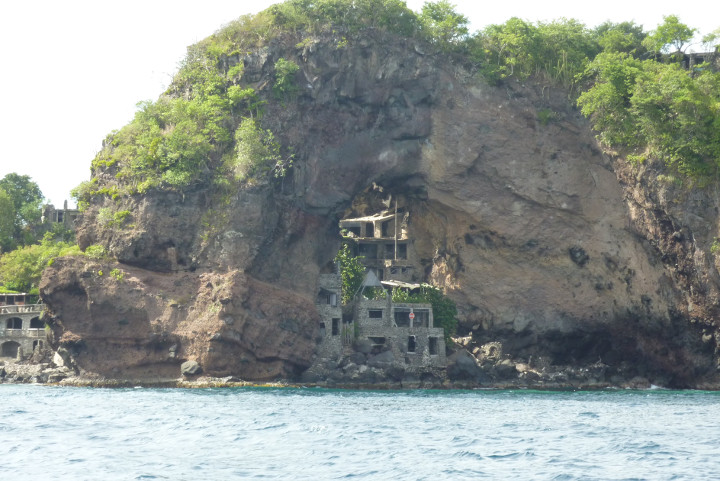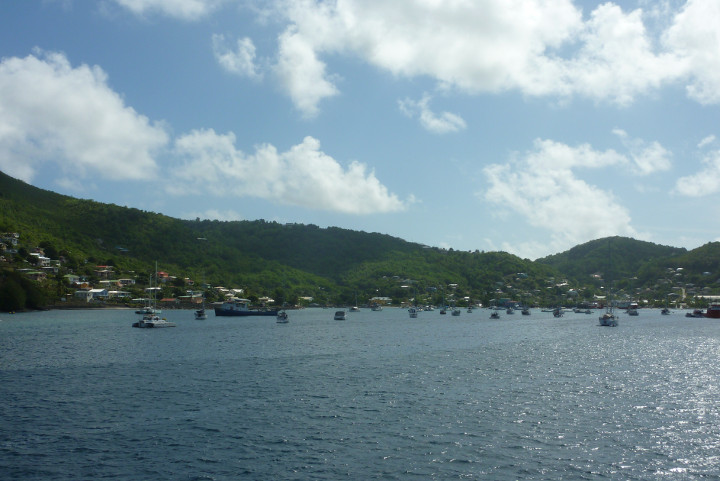 Above we enter the bay and harbor, below we view from a nearby vista the same.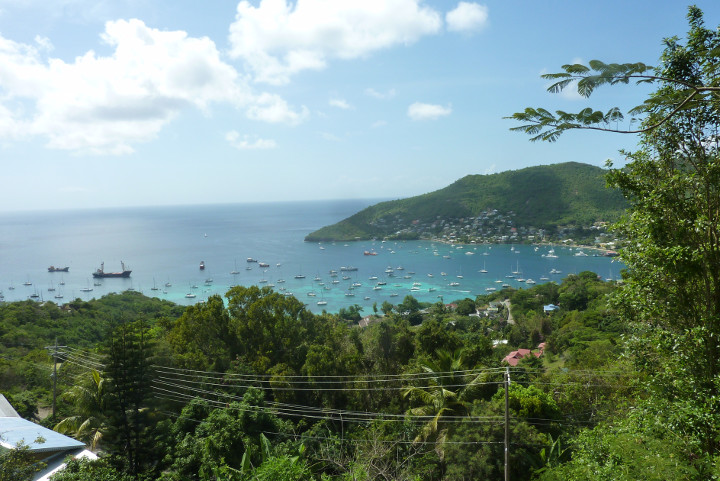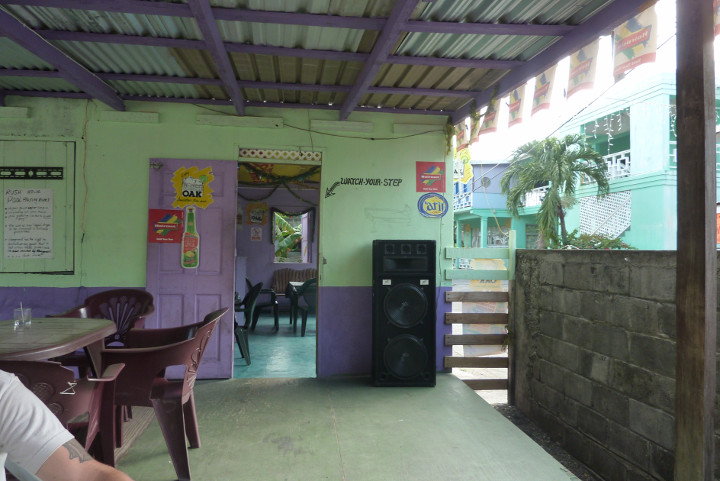 Watch your step, but throw up a cheer.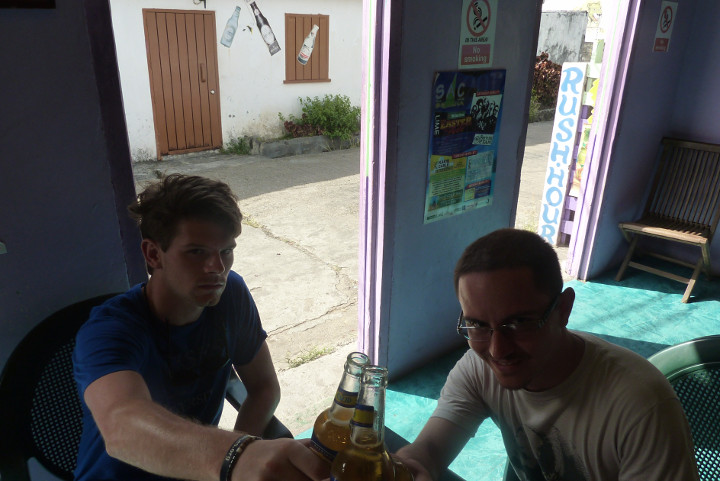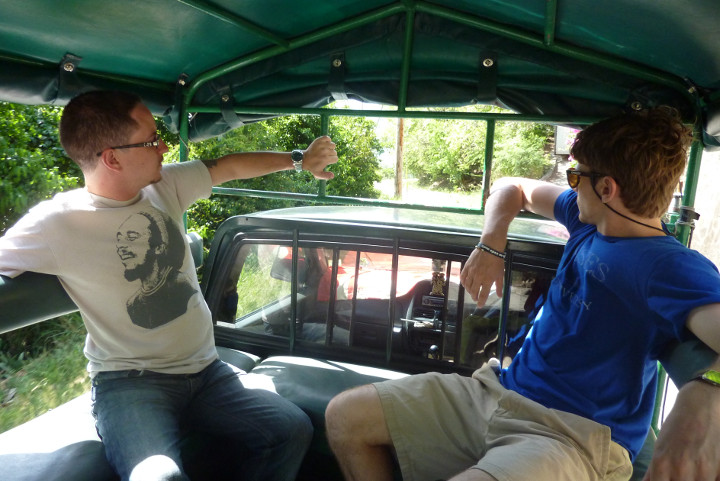 We went for a tailgate tour around the island and found Fort Hamilton.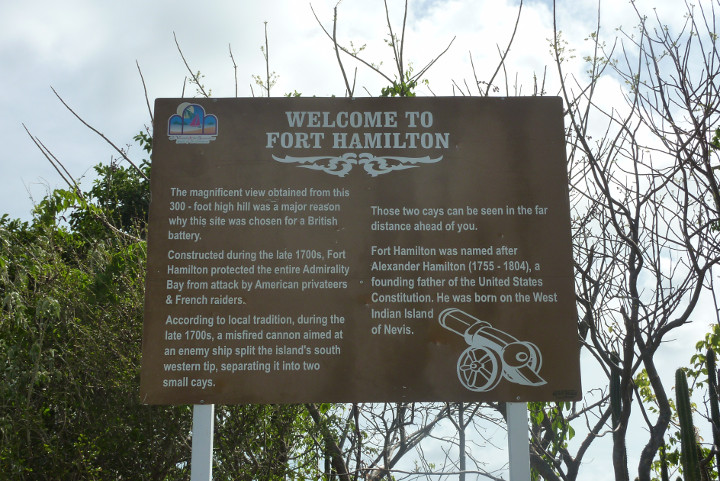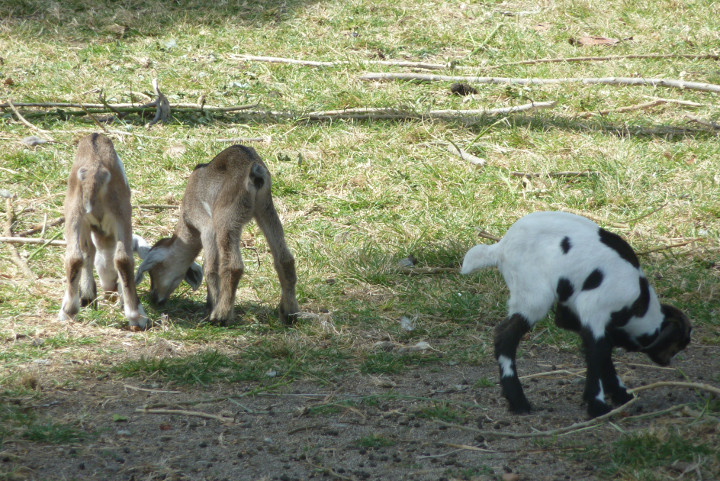 Spring had sprung and with it, new life.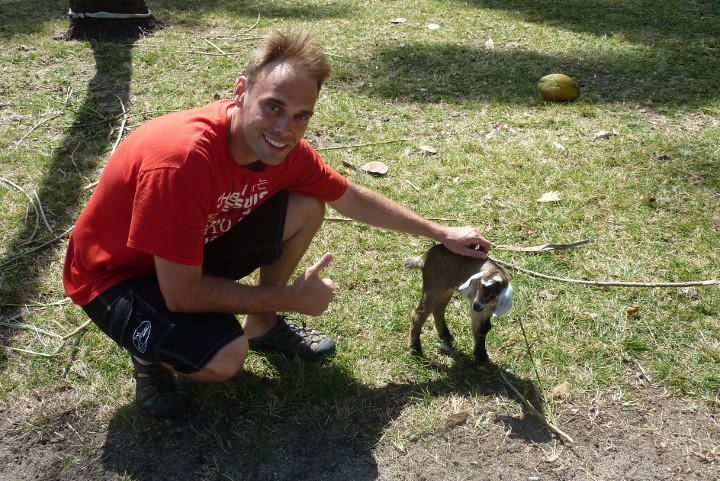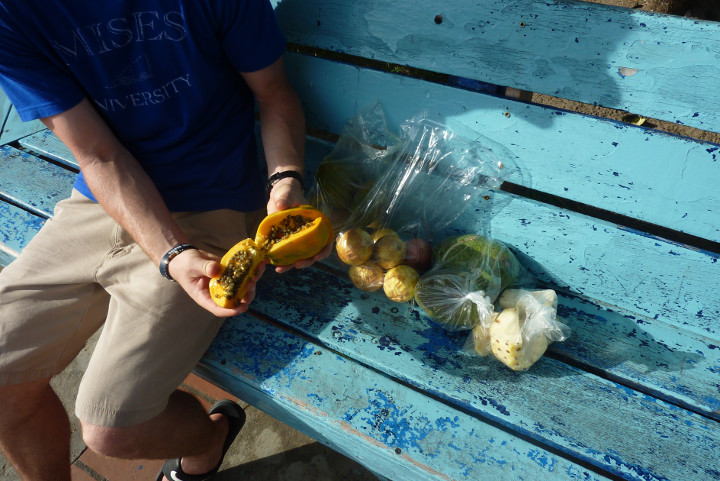 It's always fruit season in the tropics. Papaya above, if anyone knows what's called the one below, holla in the comments.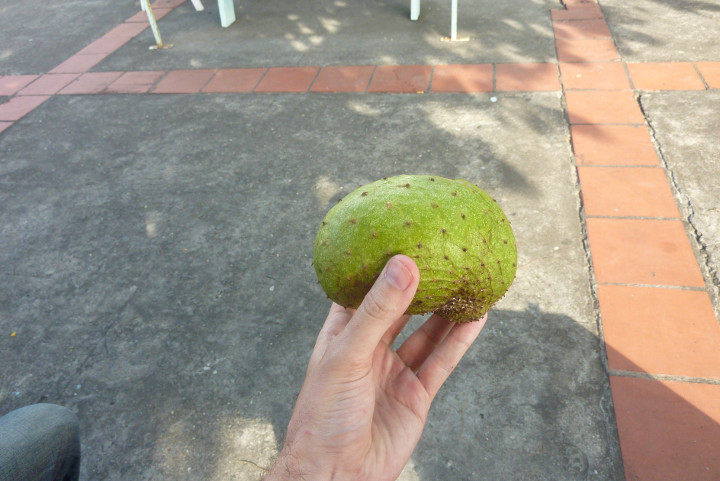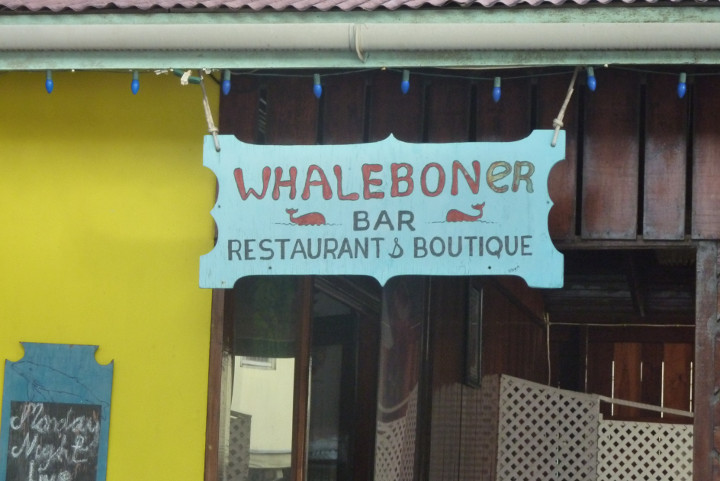 Whale vertebrae for bar stools.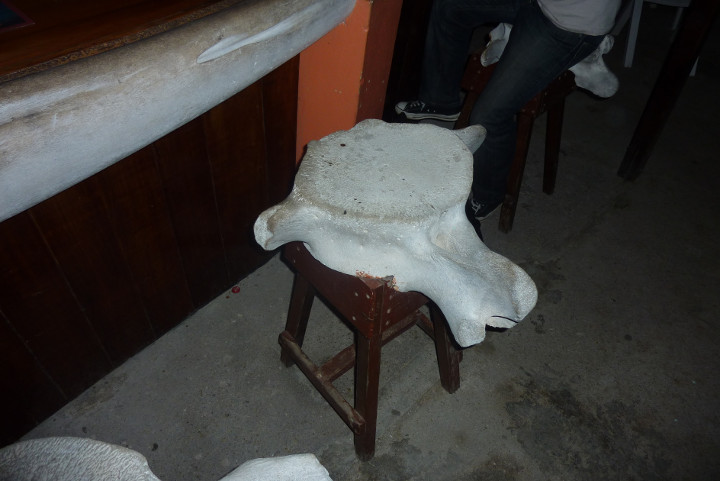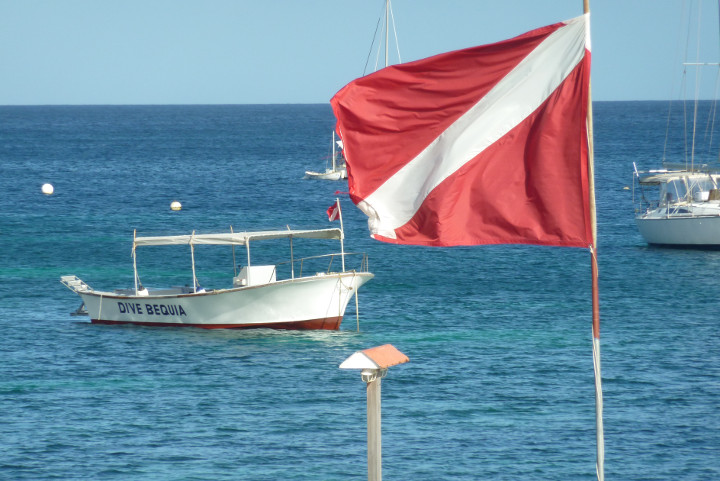 According the Ashe and Steve (who was a diving instructor and you'll meet in a bit), Bequia has some of the best diving they've experienced. According to me, that sunset was quite nice.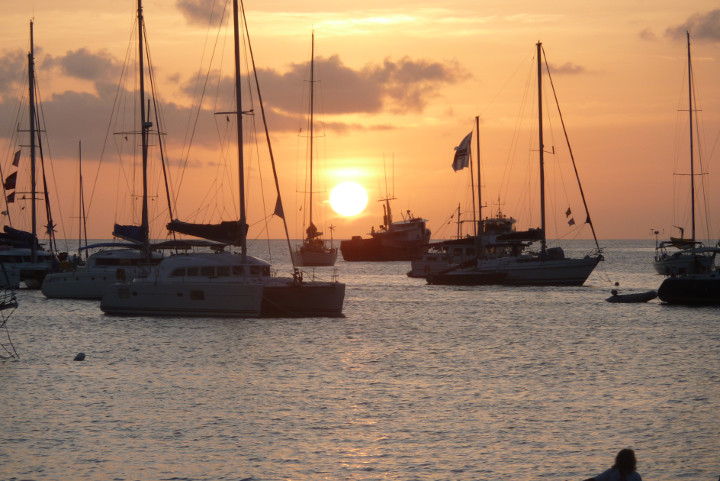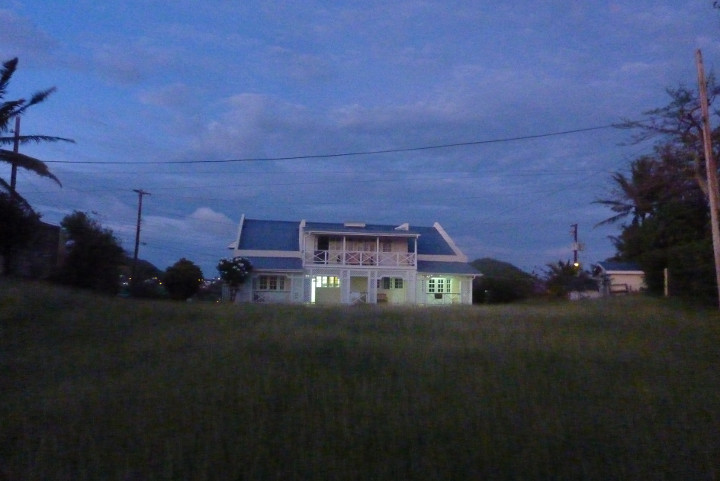 By the start of May, we settled on the unit on the left hand side of the duplex pictured above. It was owned by a Club member and located adjacent to the Club who let it to us for $1k monthly all included. It had 3 bedrooms, but by that time, James decided he'd move instead to Acapulco. He'd been working Jeff Berwick and The Dollar Vigilante (xviii) people for referrals and through that process decided to go live there. So after fighting two months of chaos, Ashe and I established order, hunkered in a finally got to the work that had us on planes, trains, boats and automobiles to arrive at.
The place sat on a hill and the windows were designed to catch the wind whipping through. The design was Robert Horry clutch (xix) since we didn't have air conditioning and consequently, we named our headquarters the wind tunnel.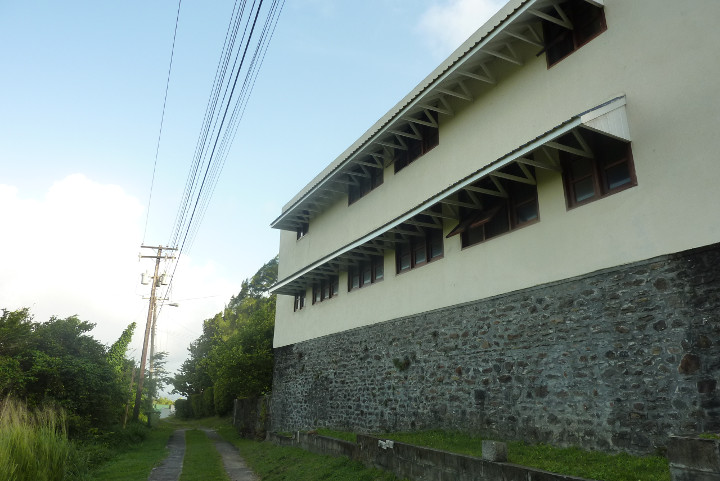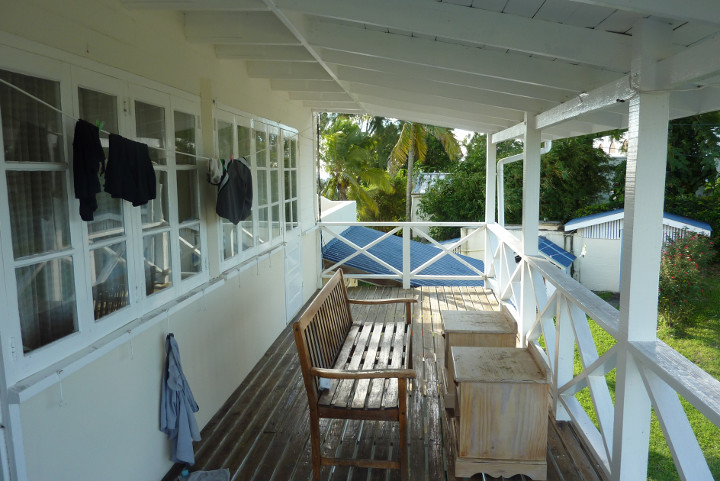 Above is where we'd eat breakfast, lunch and dinner. In the mornings we'd watch the ferries such as the one below come in from Bequia and in the evenings we witnessed countless pure sunsets (xx) over the ocean.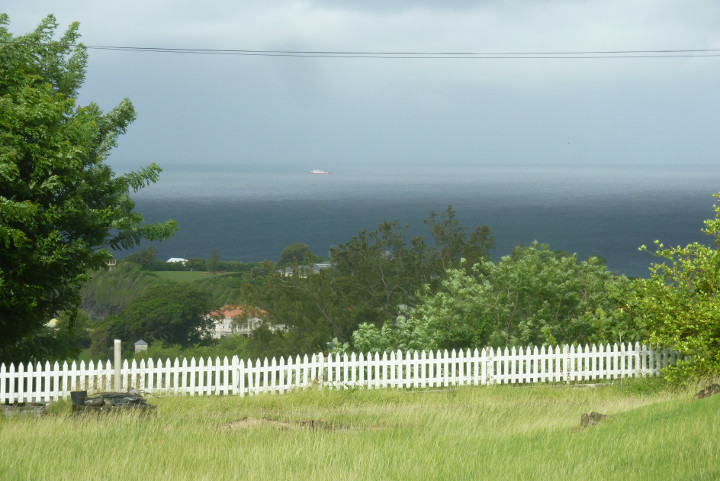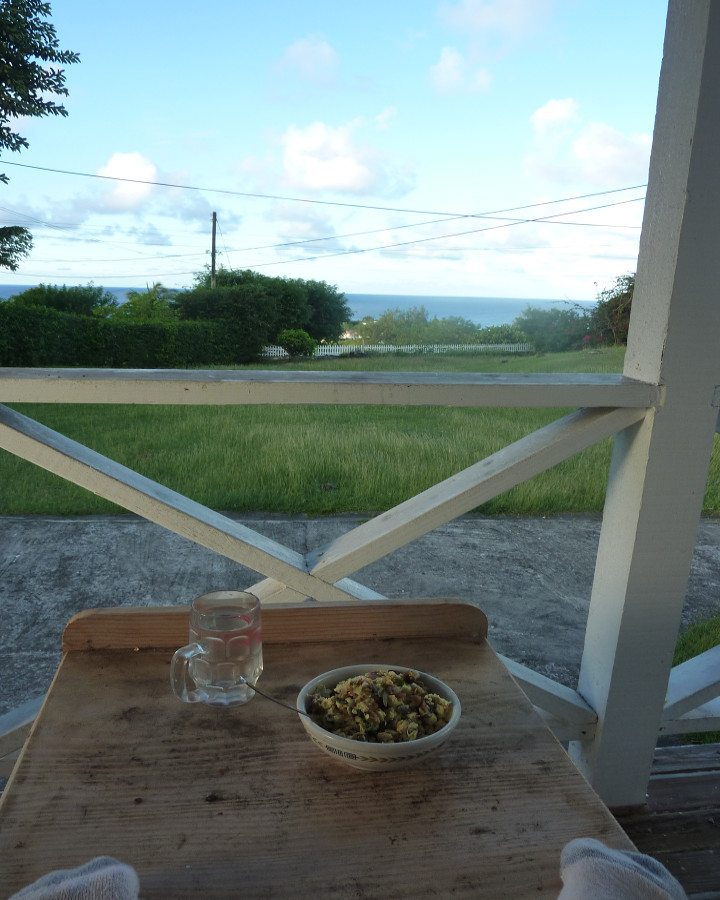 Above an eggs scramble breakfast about to be crushed, below a Paul Purest sunset on the horizon and okra growing along the picket fence in the foreground.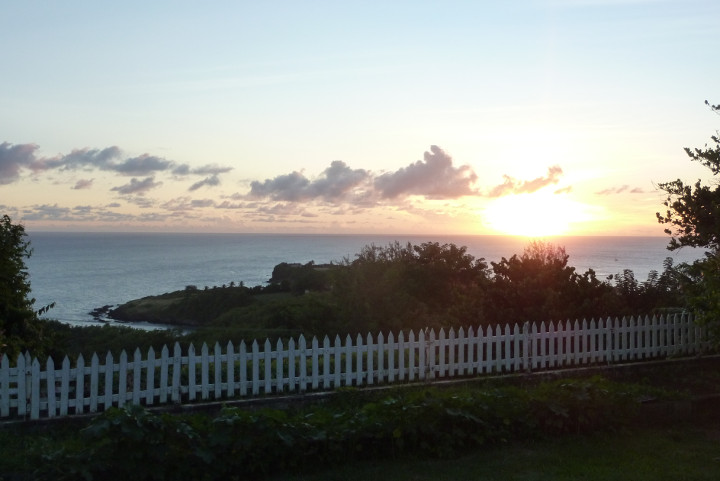 Above, a view from the roof and below later in the year after the yard had let its long, blonde, wavy locks grow.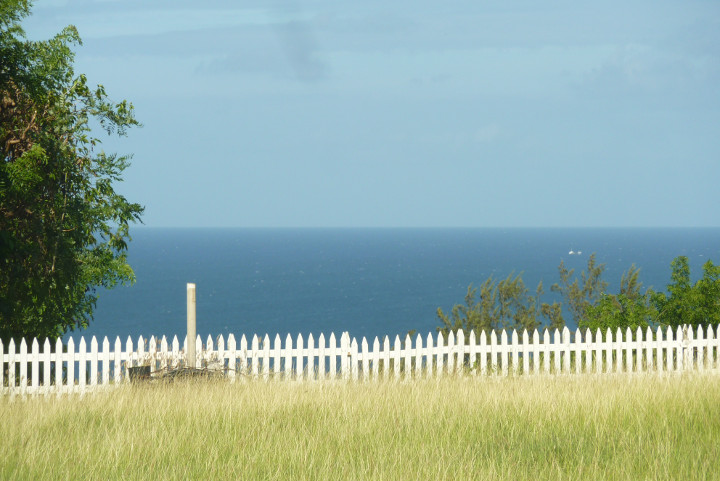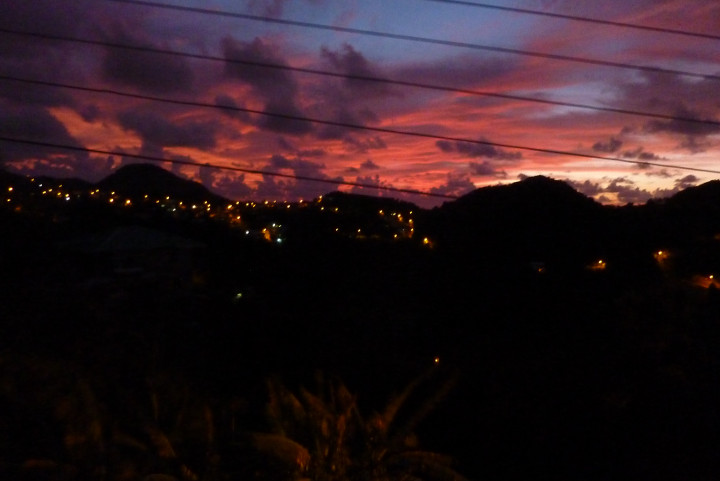 Above, the morning twilight anticipating the sunrise ; below, you can see our view from Prospect Point provided us a vista of Bequia.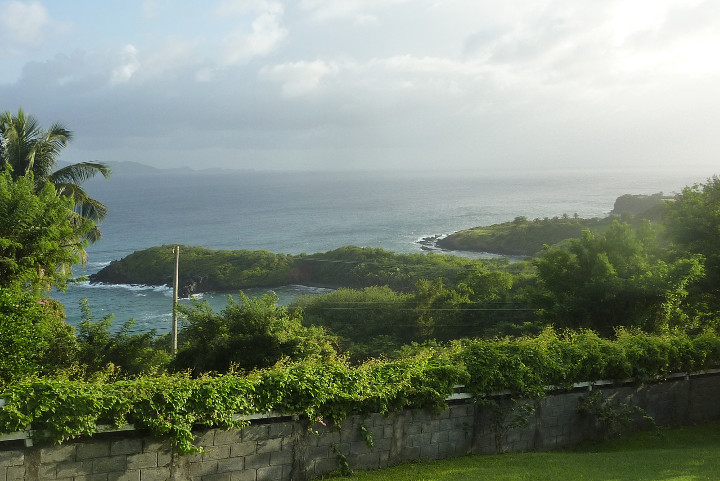 There were rainbows.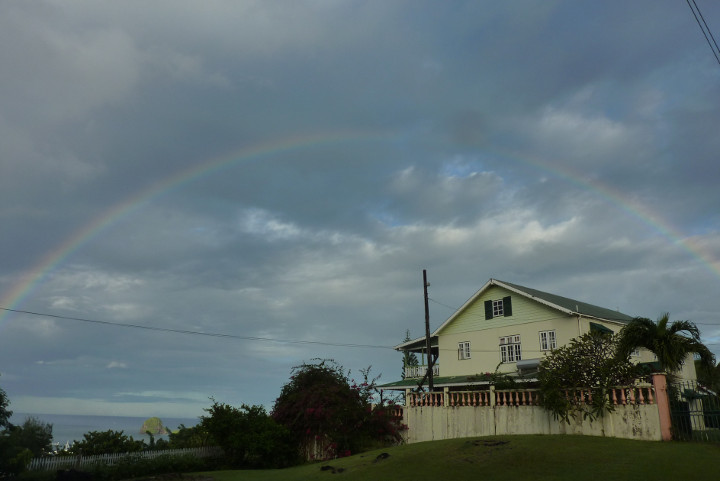 And double rainbows.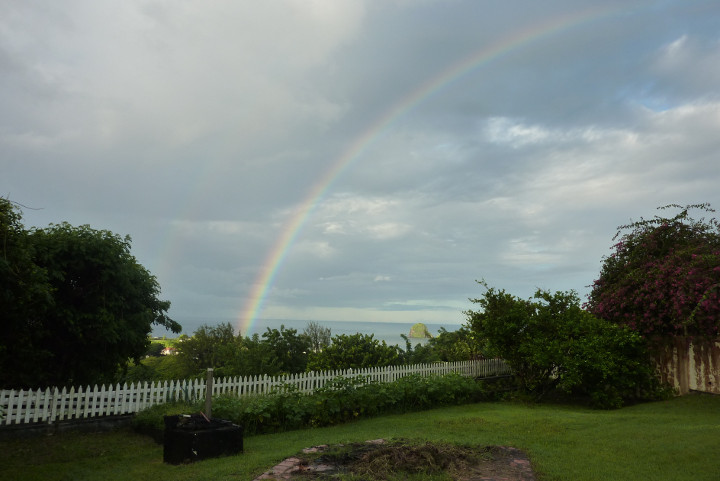 And more double rainbows.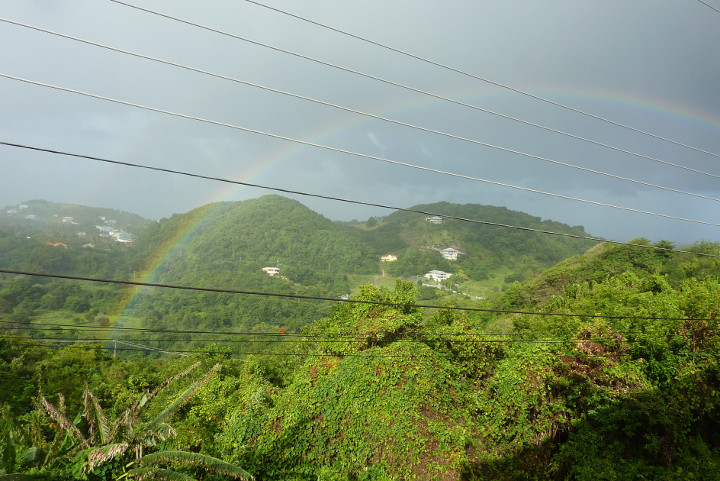 So intense.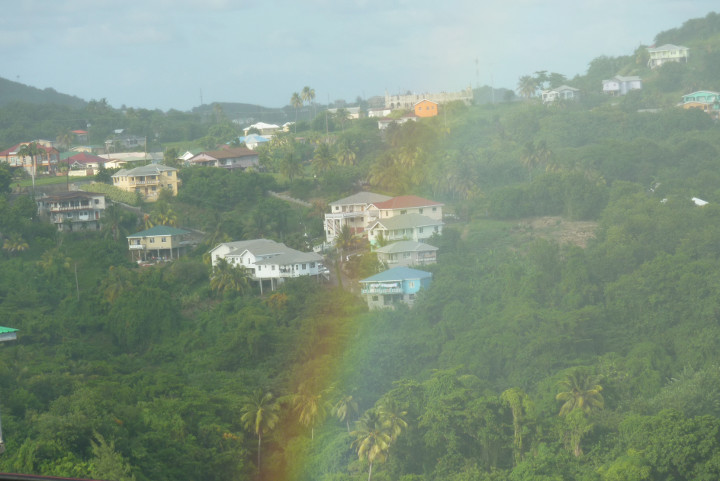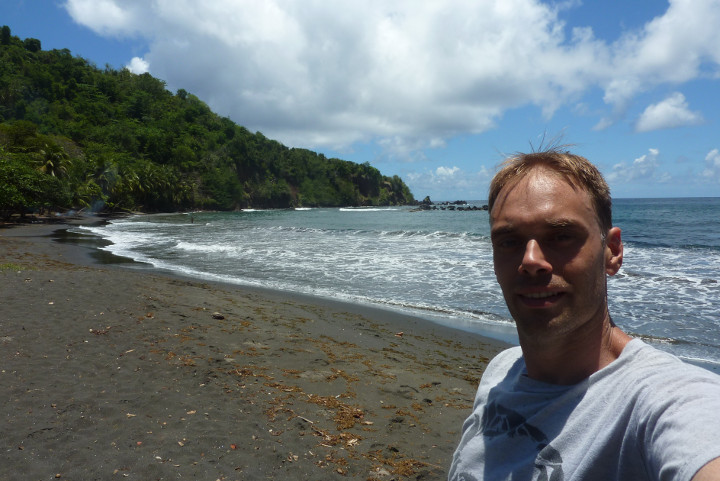 Our wind tunnel at Prospect Point was strategically located on top of a mountain with the volcanic, blacksand Brighton beach to the southeast, pictured above, and the white sand Breakers beach to the southwest, pictured below.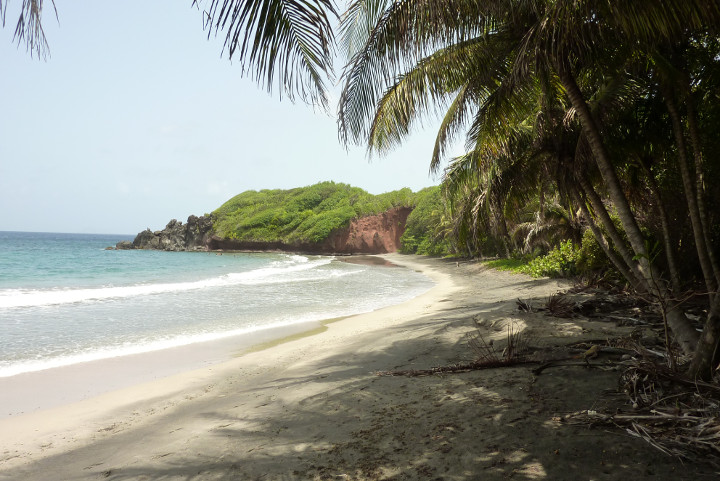 We went to Brighton beach more because it was easier to access. I had my closest tempting of death there one the first times we went. The east side of the beach is protected by a coral reef and is much more calm, but we didn't know that then. The west side of the beach has long waves. I decided I wanted to get out passed the waves, but then found myself out a bit too deep and realized the east-west current was threatening to either sweep me out to sea or smash me into the rocky shore and I wasn't down for trying out either. I wasn't sure if it was life threatening, but my conscious said, "Might as well pretend like it's life or death and swim for everything you love in life." I listened and took a diagonal path to the northeast and ended up cutting my way back to safety in short order to collapse on the beach from adrenal fatigue as soon as my feet touched the sand.
From that point, I realized why the Vincentians gathered on the east side and tended to hang out over there :)
Directly below we're viewing the peninsula south of Breakers beach from our road with Bequia in the distance center and, probably the most notable Grenadine, Mustique, further in the distance left.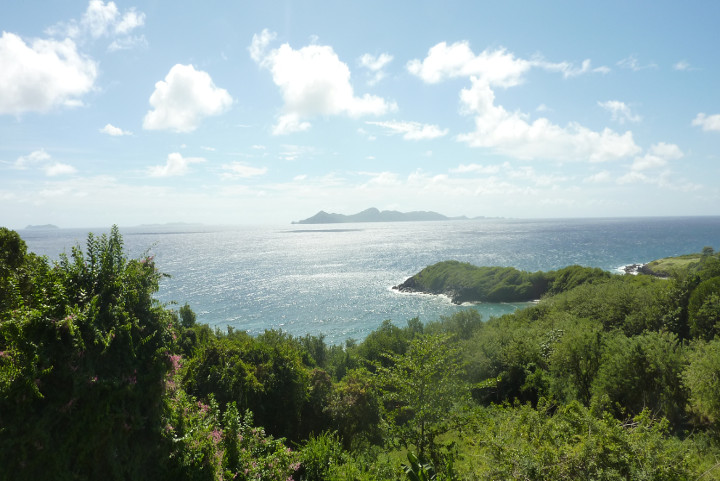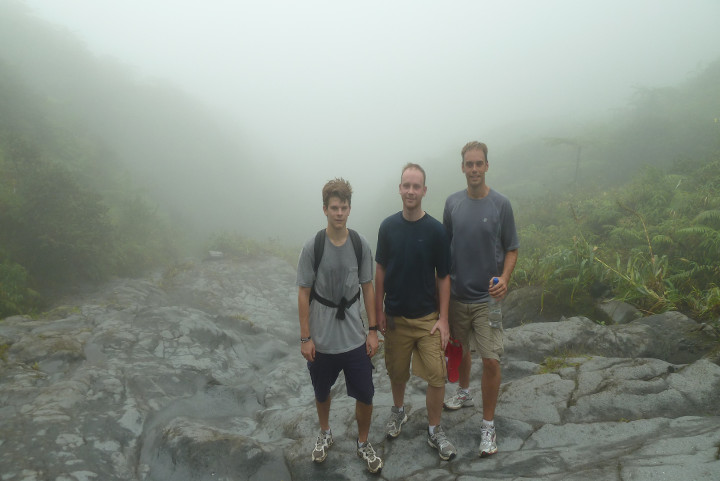 Ashe turned 30 on Cinco de Mayo, 2012 and his young brother Zane paid us (xxi) a visit. So we decided to hike the active volcano, La Soufrière, which last erupted in 1979 and still smells like sulfur. Above and below we're at the top, where the wind was whipping.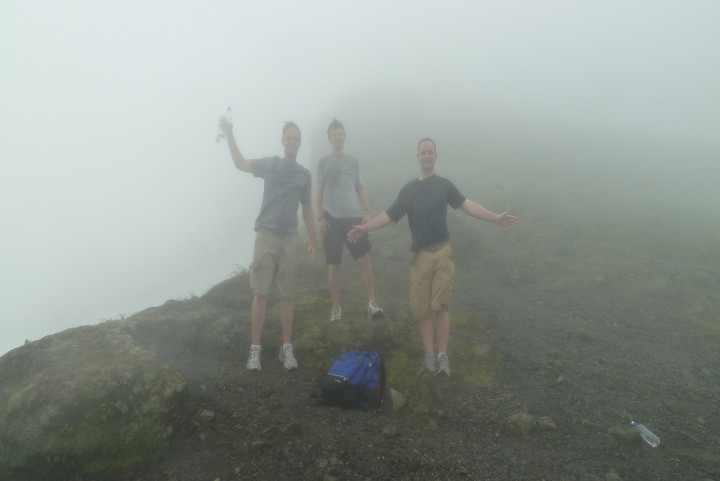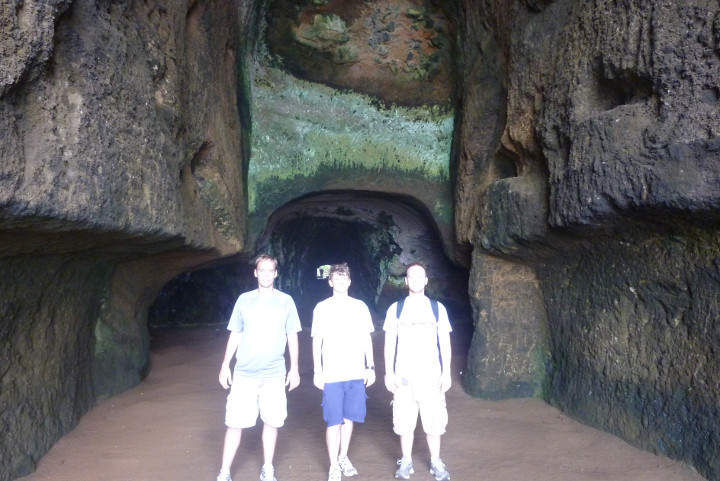 This hike was our first, so we let a guide take us. After the hike, he took us to a tunnel so we could get a pic to highlight how white the Whiteners and yours truly are. Or maybe to show us the industry (xxii) that used to be. Or maybe show us the bats, pictured below. Probably a mixture of both. Anyways, the bats are great and would come out every night around dusk to wave to us with their wings and feast on the bugs.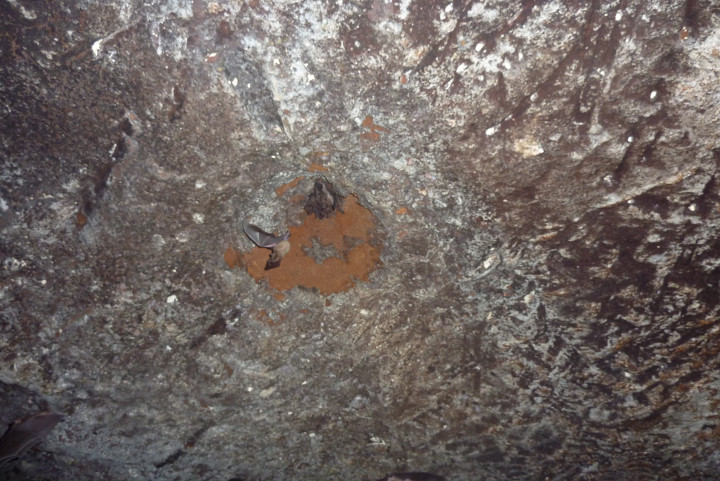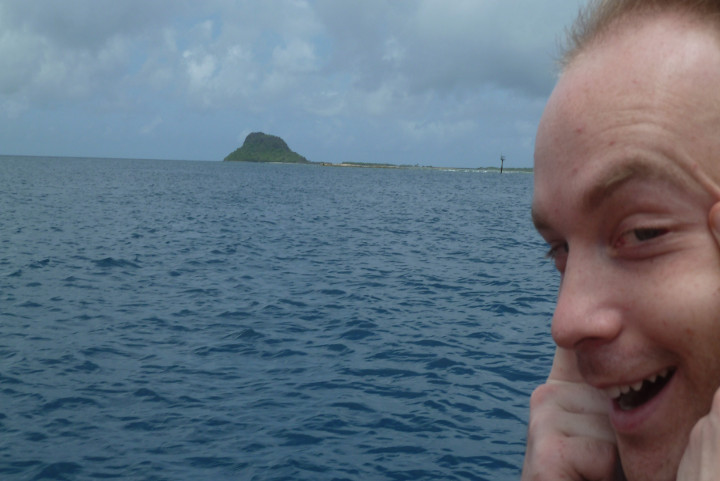 Those Whitener's are funny guys. Zane above pointing out the Chino hat looking island with his eyes. Zane below drinking black people beverages(xxiii).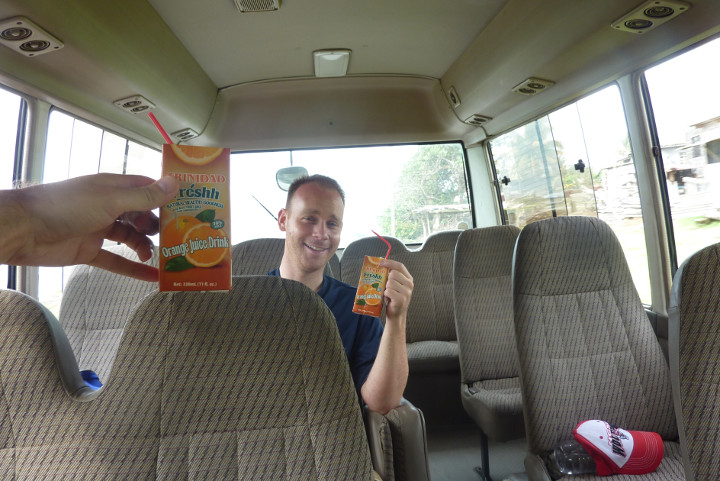 Uhm, Elaine, jerk stores may not exist, but Diana has a bone to pick with you given her Jerk Centre keeps long hours in light of all the demand.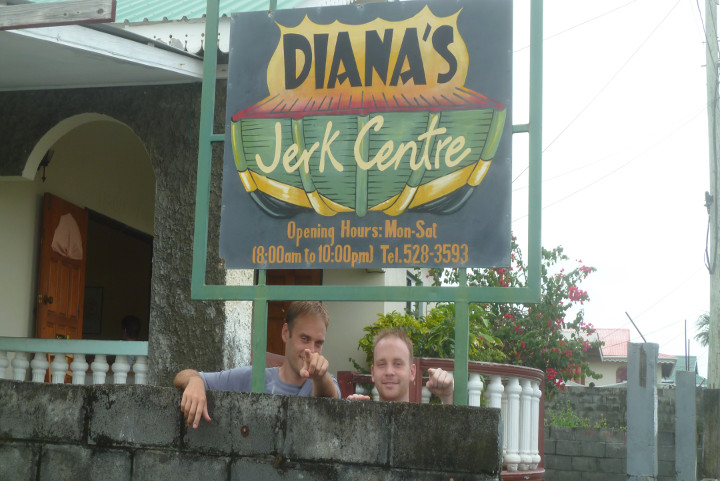 Speaking of jerk, we ran through bottles of the seasoning --from the jerk store-- to cover too many chickens to count.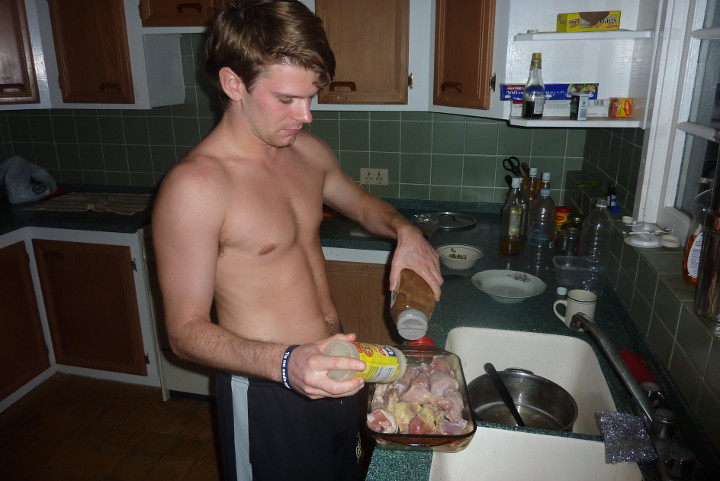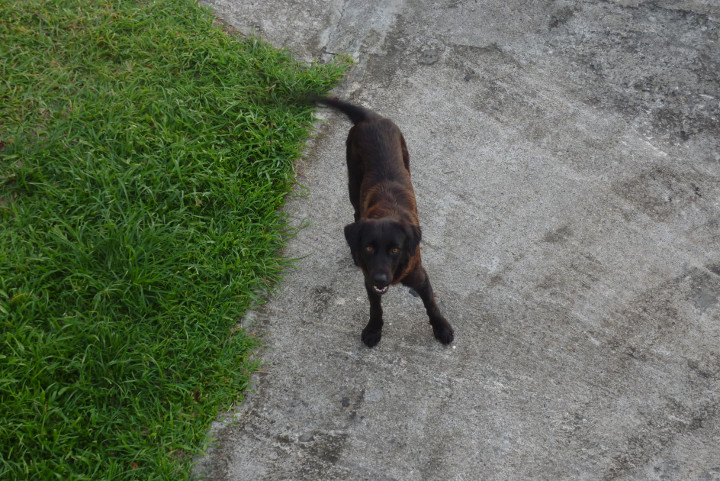 The owner's brother moved into the unit next to us. He was on his death bed and his caretaker, Craig, kept a dog that at first barked and barked and barked at us --in between itching his skinny, flea bit self-- until we started throwing the dog bones. He gained several pounds off chicken bones alone and we named him Itchy. We'd buy a ham once a week, bake it, throw him the bone and it'd be gone in the morning. Itchy the Vincentian bone crusher.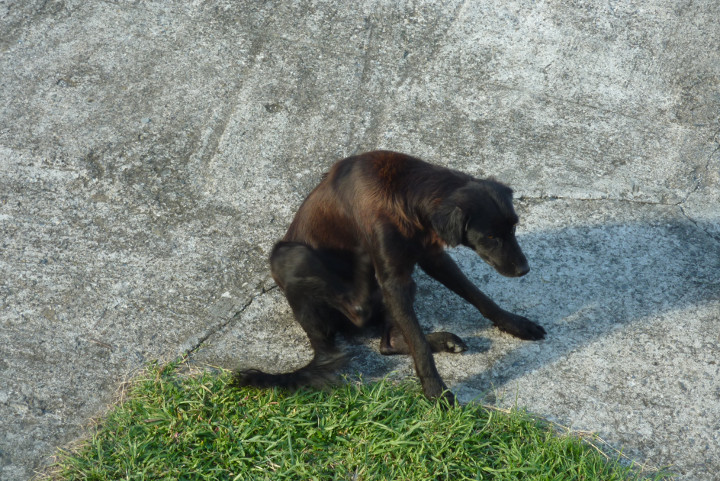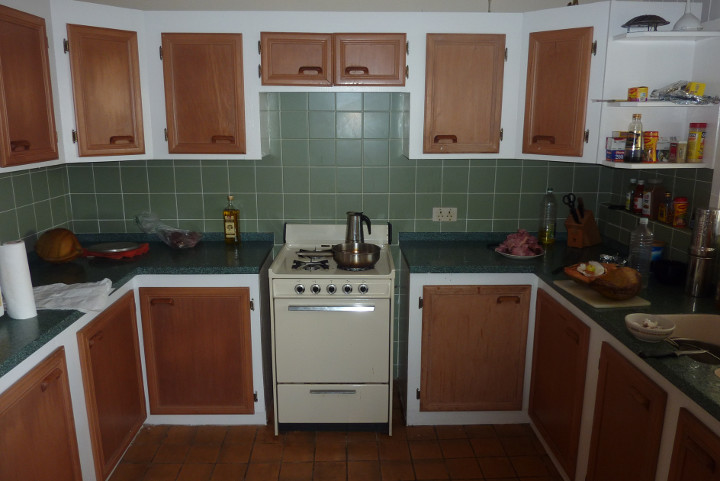 Our kitchen, with a plate of the aforementioned de-boned ham on the right and a cracked coconut to the right further.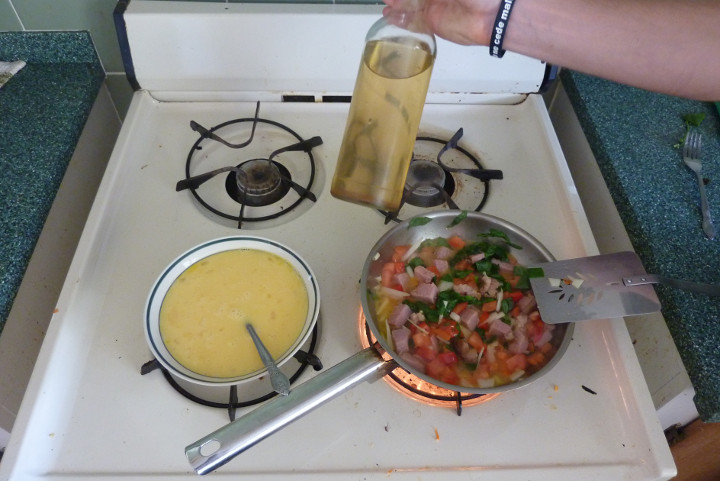 A typical eggs scramble with mad coconut oil from the market. We'd have Cecilia buy us the oil to get the local price. I did a lot of the breakfast and dinner cooking since Ashe wasn't too strong there and he was helping me in plenty of other places.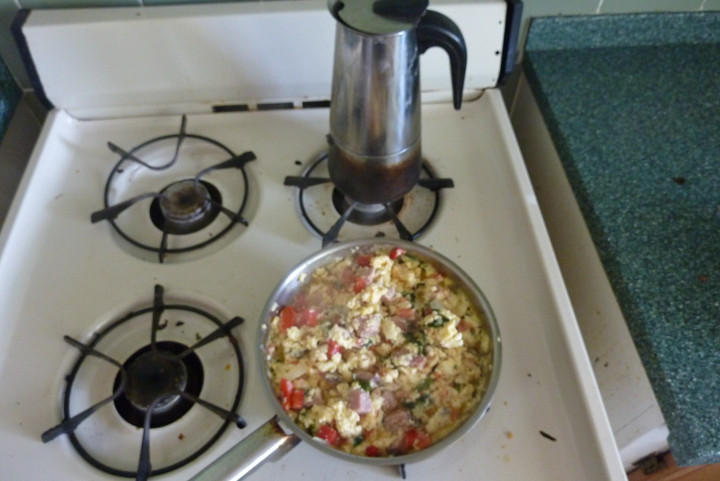 Fruit of the sea.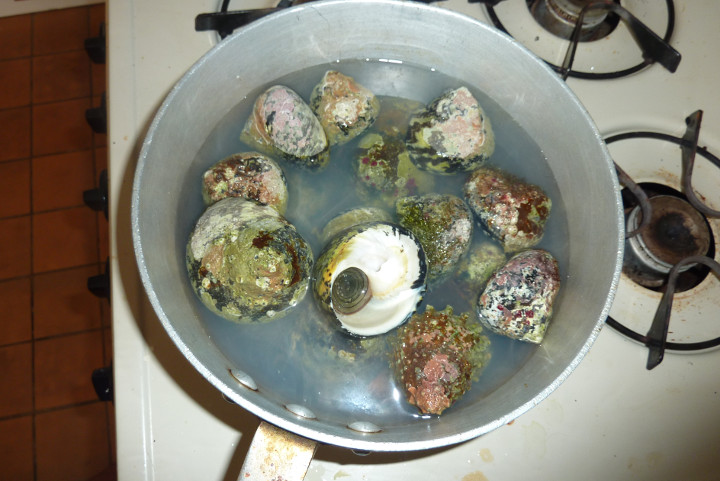 Island banana stand.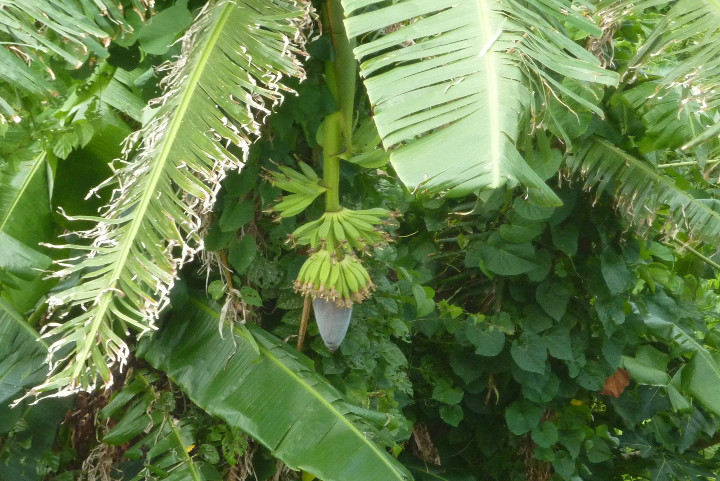 Bananas not yet ripe or frozen, though there's probably money under the treestand, scroll for it...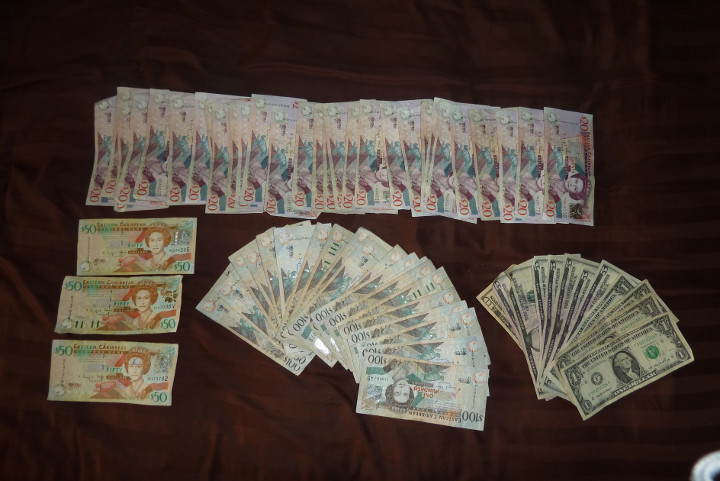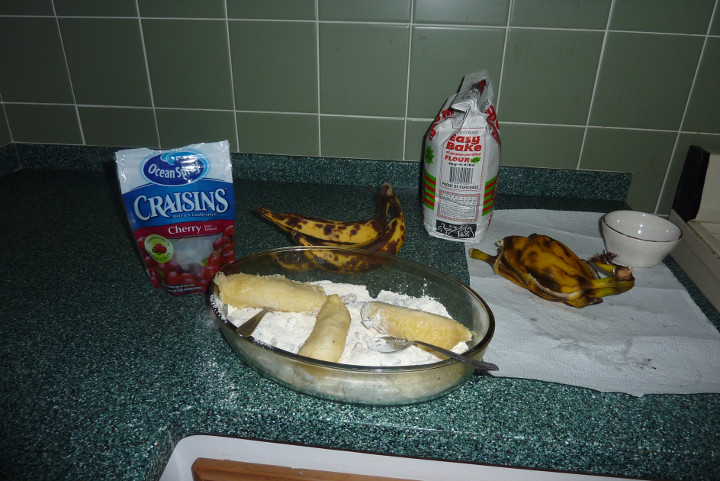 Nevertheless, Ashe is the banana bread baking Baron.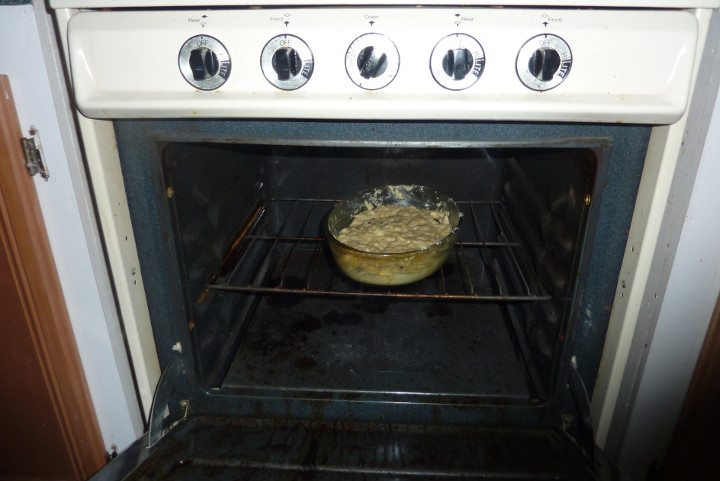 In brief, beautiful.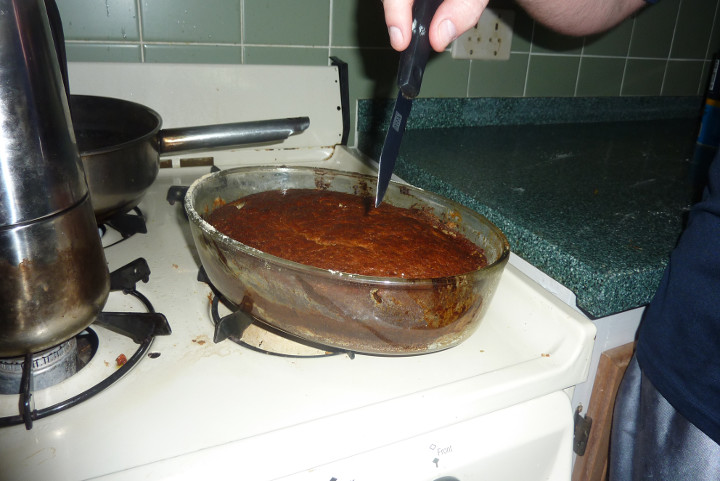 Below, Ashe's bread machine.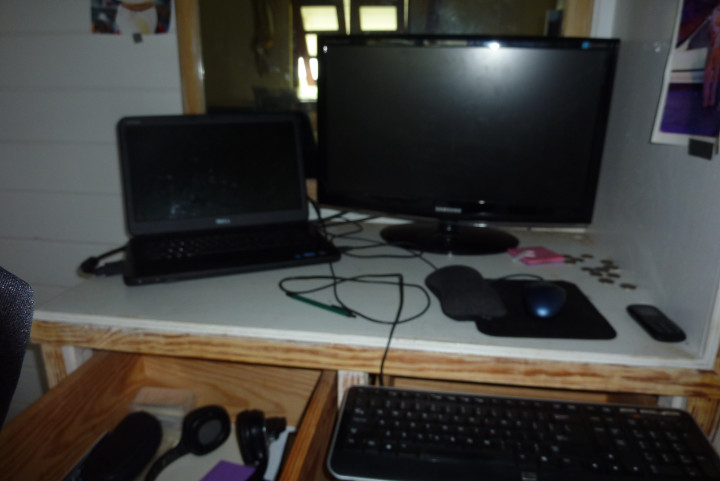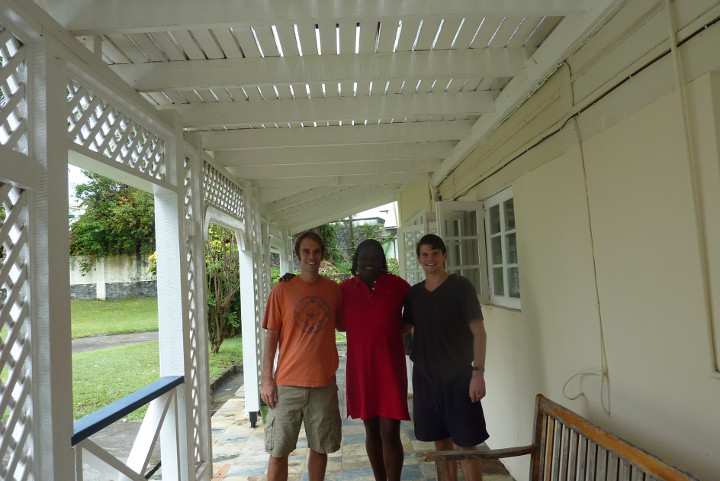 Ashe, Cecilia and I above ; the neighbor Craig (xxiv) and me below on a Friday towards the end. The party was goin' on and we kept their heads ringin' that night.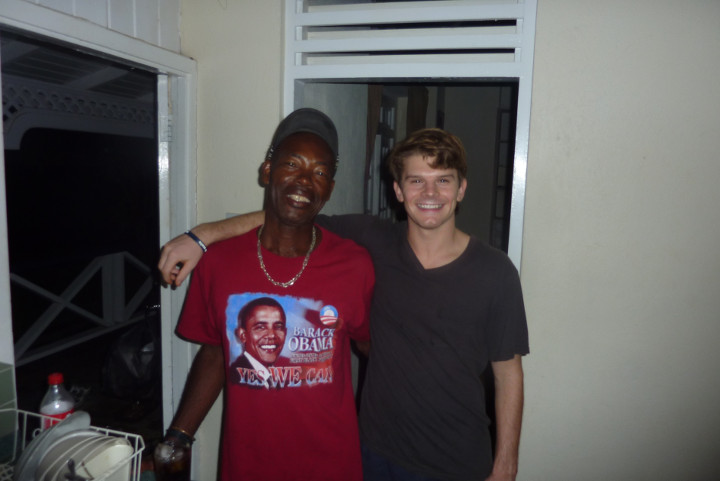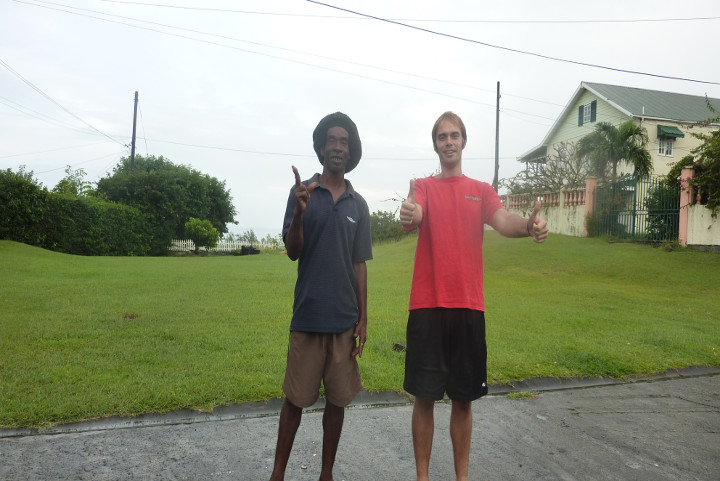 Wa gwan ? Rastaman Ebbo doin' rasta things below. A lot of the neighbors thought we were religious since we didn't go out so much. While we thought that was funny, we didn't go out so much since we were on a mission(xxv) and it was quite the hike to get to town.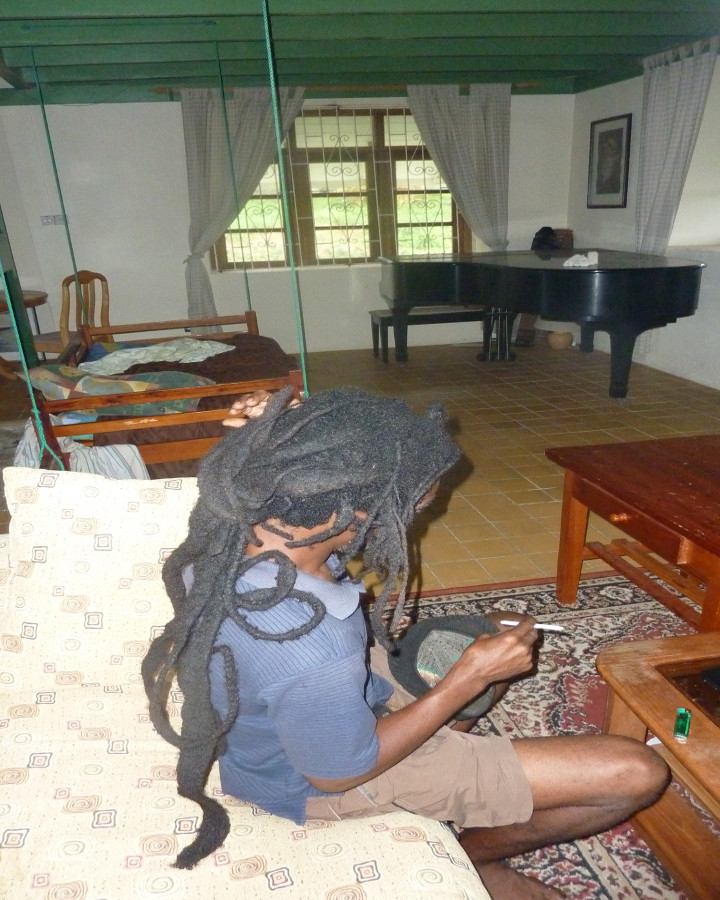 A stickbug on our patio.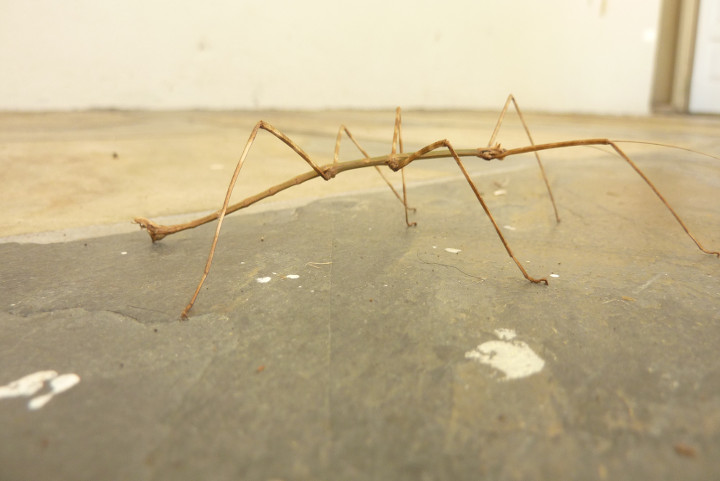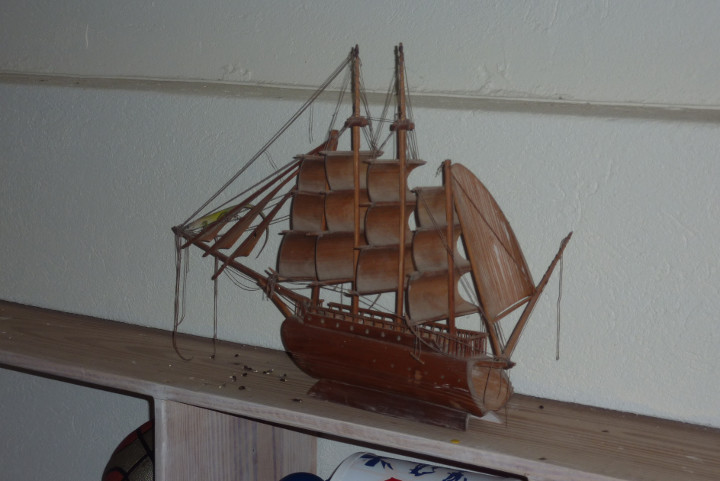 Our resident gecko we named Leo since he liked to hang off the stern of the ship. Would ya look at the size of that sucker ? How many bug bites you reckon he saved us ?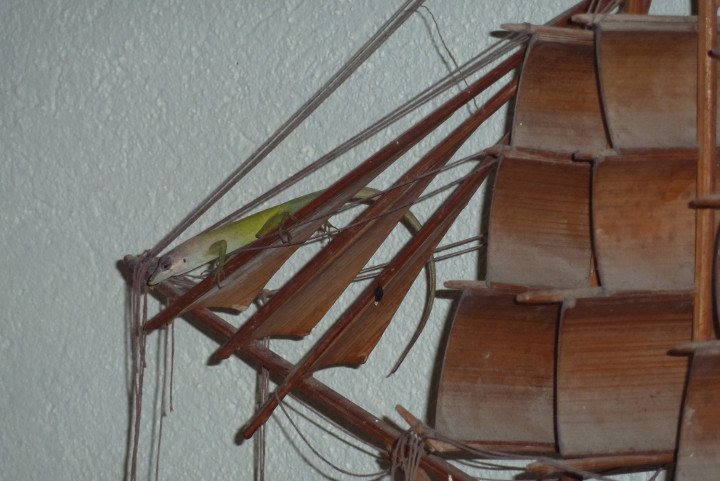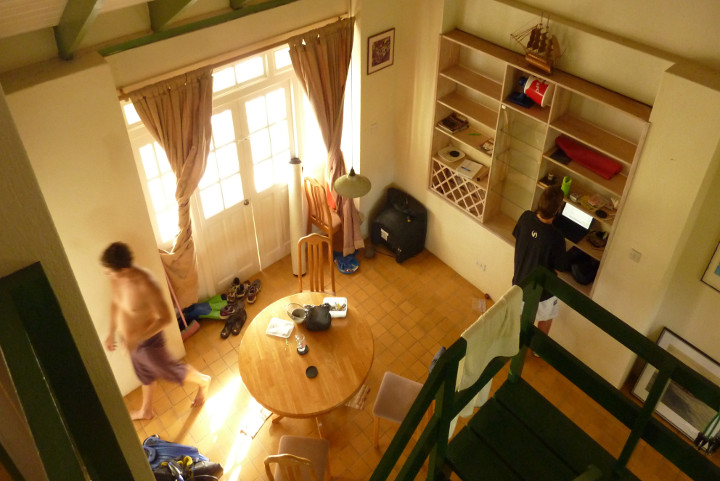 Above, I view from the top step; below a crescent moon paired with Venus. The night sky was a real treat and in December there were at least a couple meteor showers.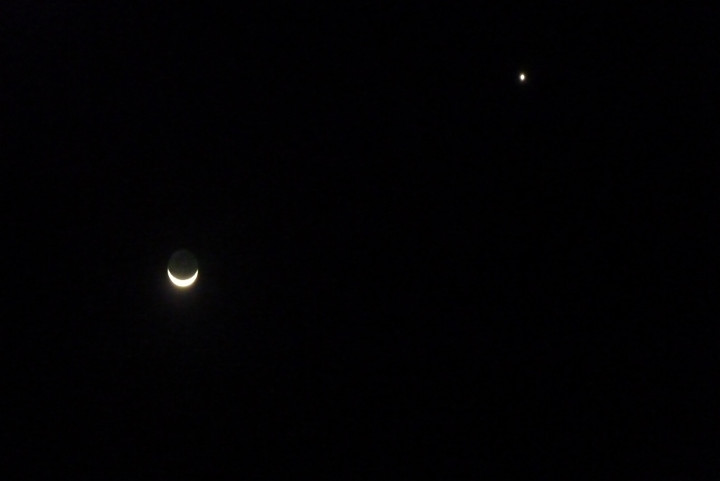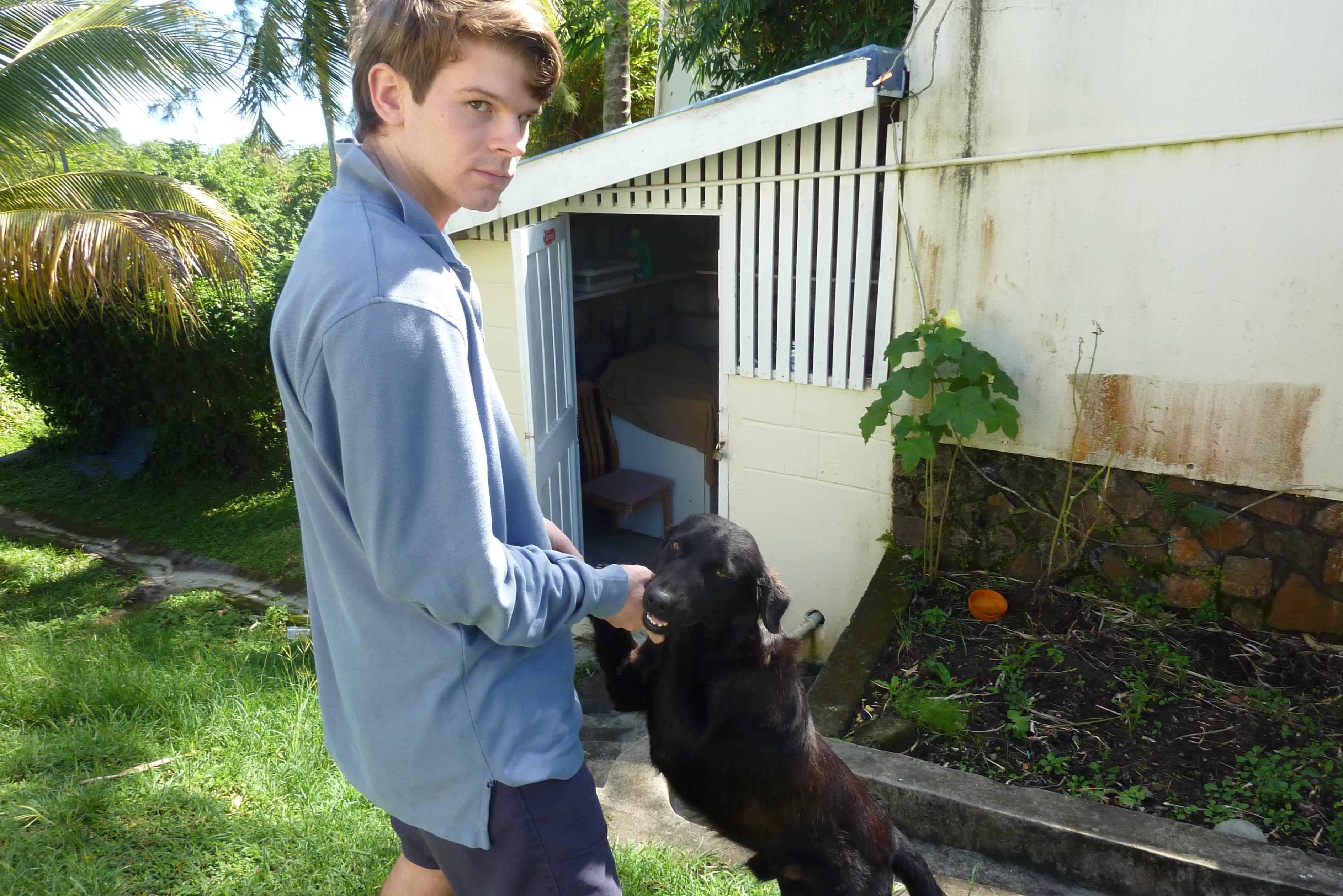 What up dawg ? Yeah, you read that right, that's 100% juice. The drink is over there, next to the chicken and giblets.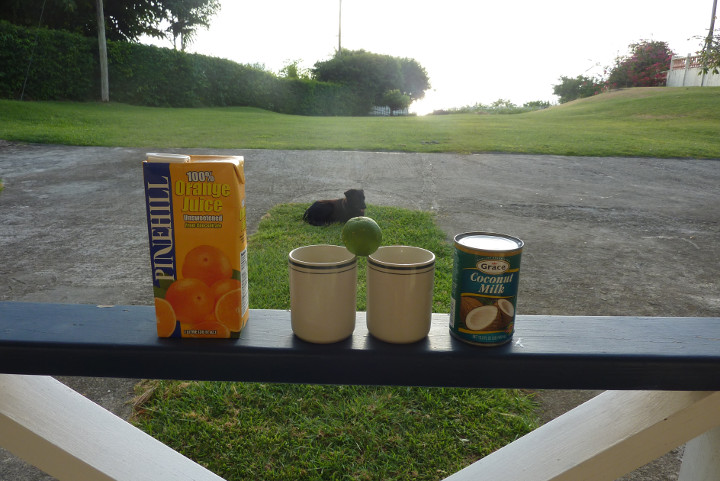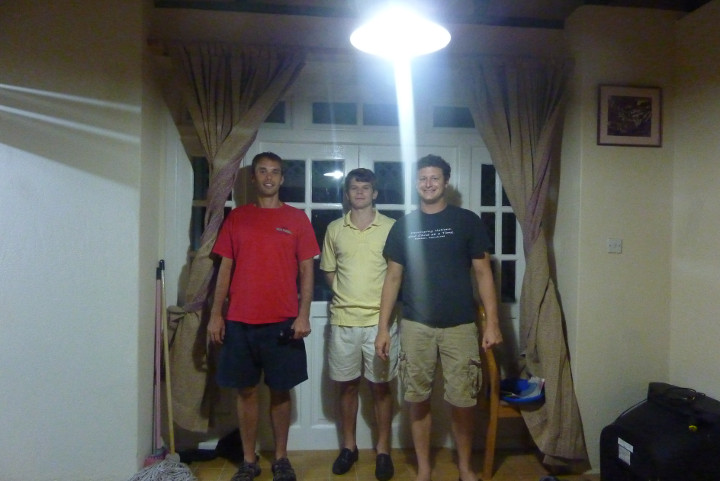 In June, Ashe's friend --from high school, NC State and beyond-- Steve came to visit for a week. Strong thumb game.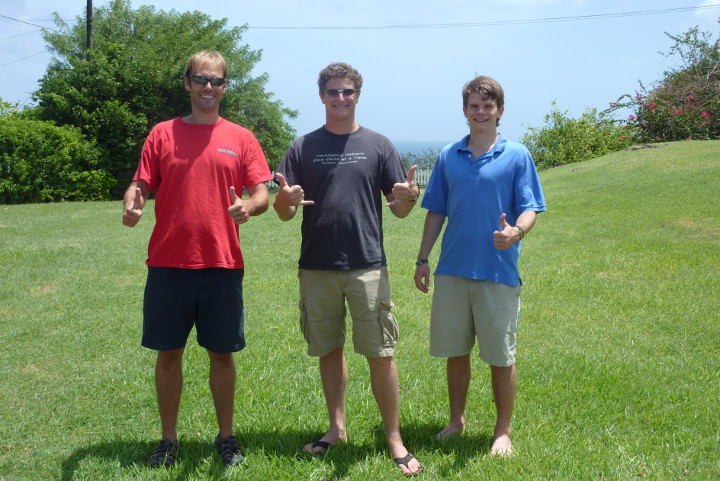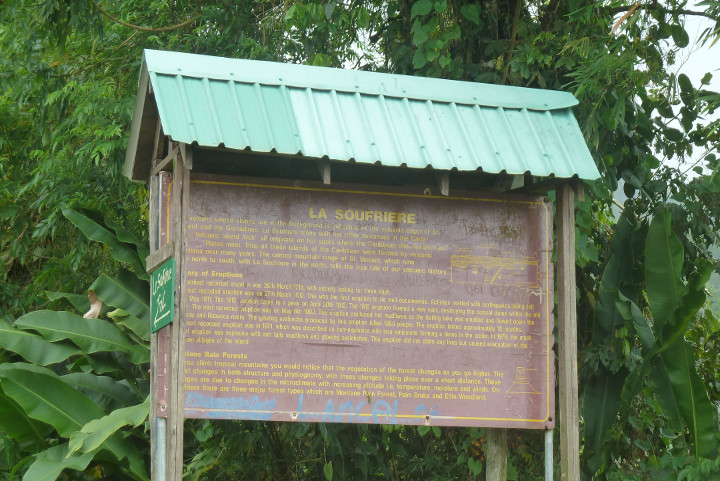 We made another hike of La Soufrière. This time, Pops just dropped us off at the trail head and we made our own way.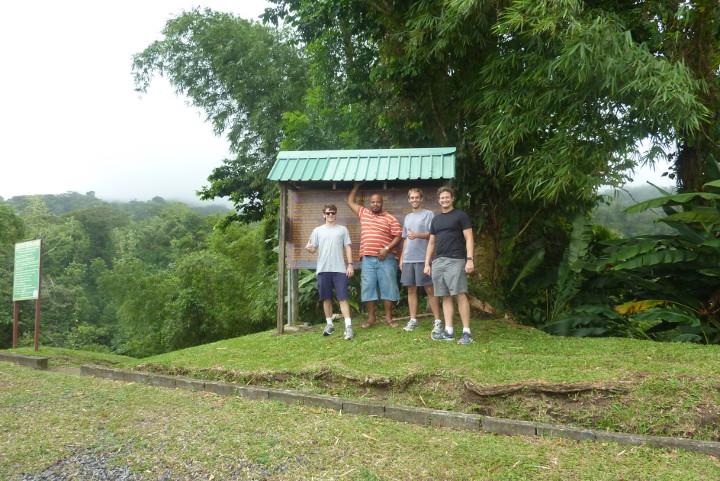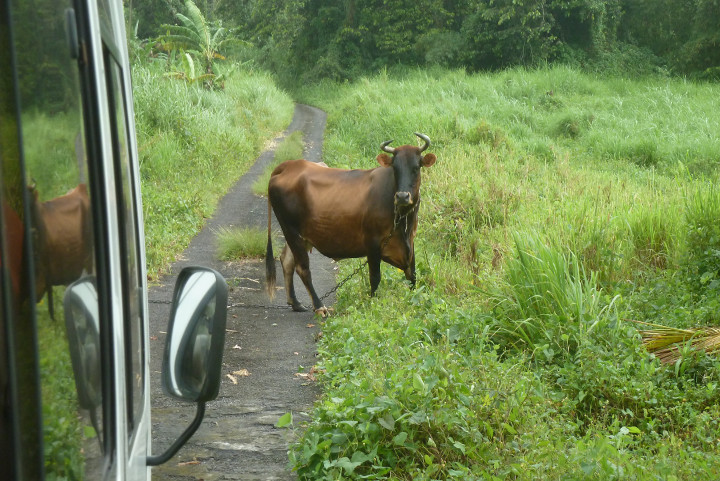 A steer or two showed us their snout and wisely steered themselves to the side as we made our way.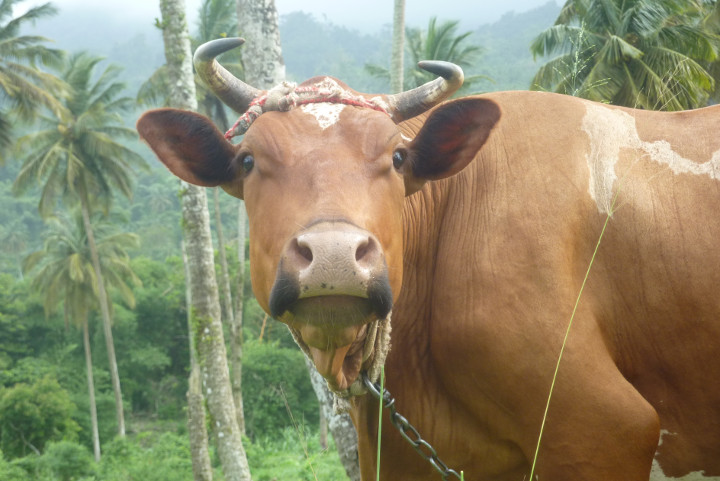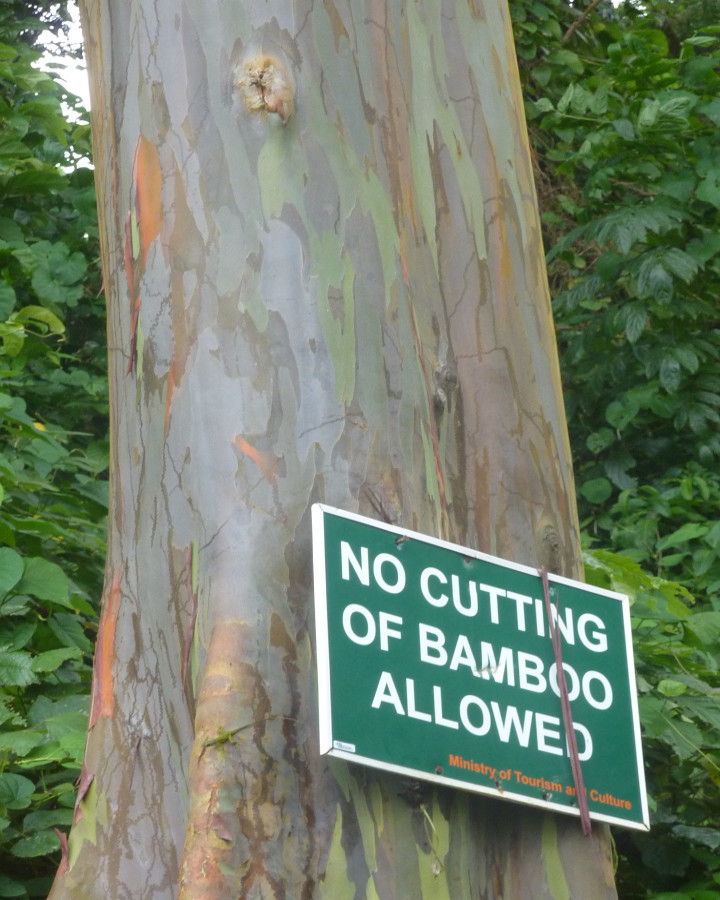 The Dudes abided the sign above and couldn't help but notice the palm tree below growing right out of the middle to tower over and shade the towering shade tree. Do you like apples ? How you like 'dem apples ?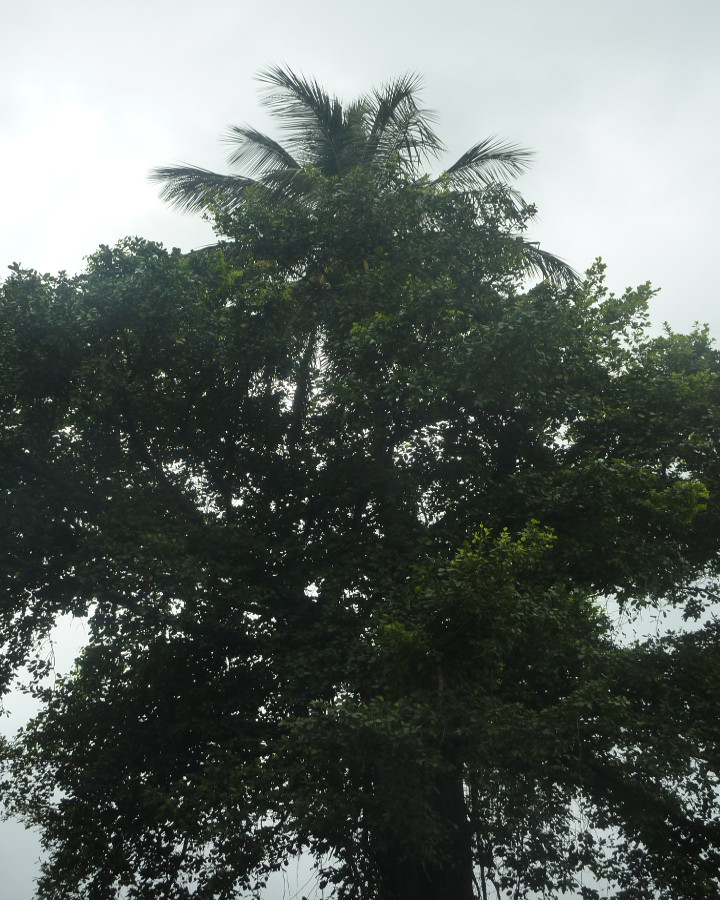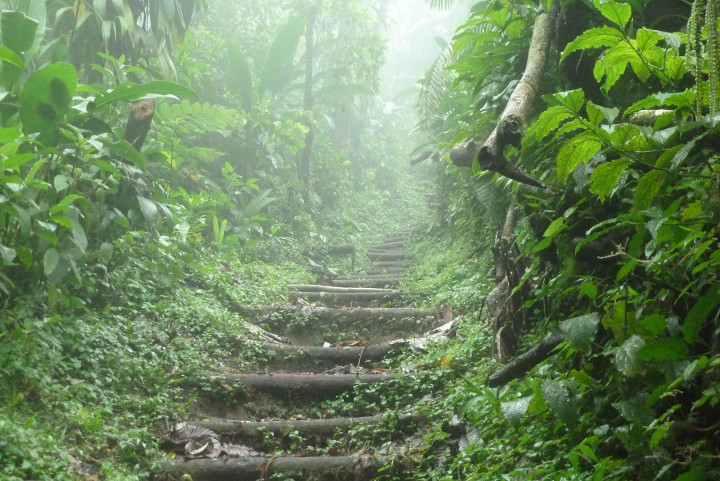 Youngblood on the ascent...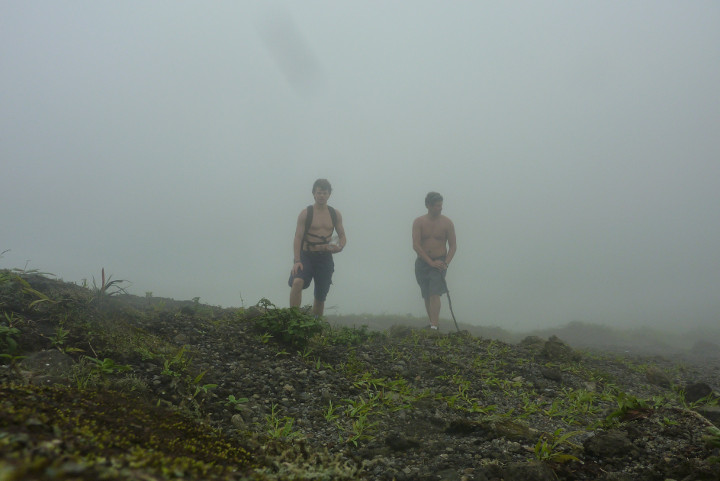 ...given the fog and that rain had washed out part of the trail, we took our time and made piles of rocks toward the top to mark our path. If I recall correctly, Steve was an Eagle scout as well, so dudes were prepared.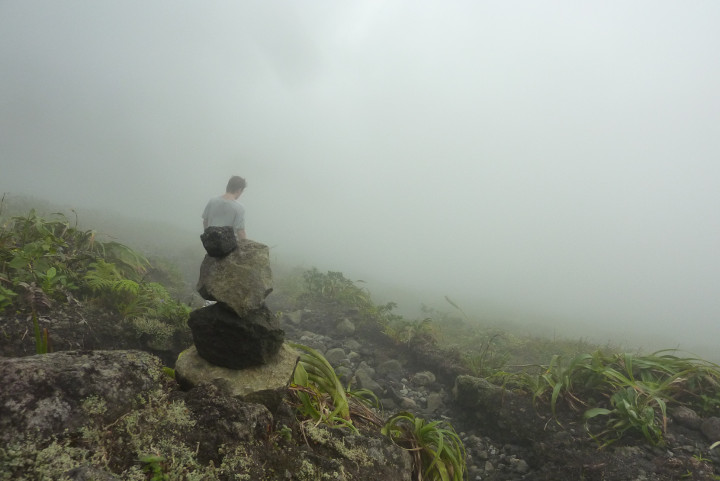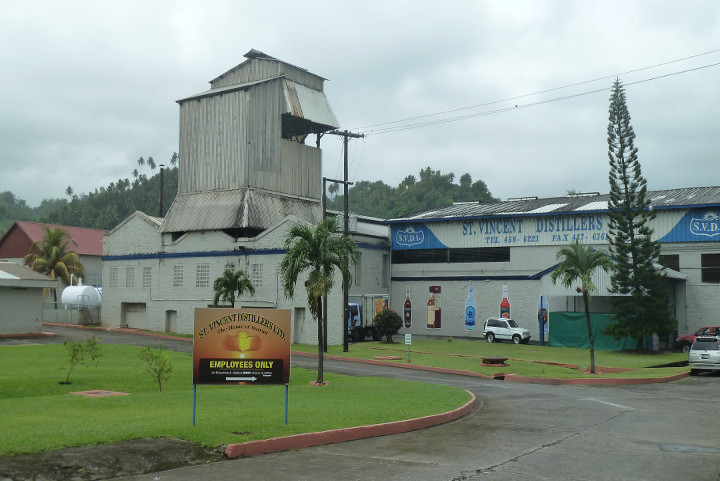 The rum distillery was paid a visit.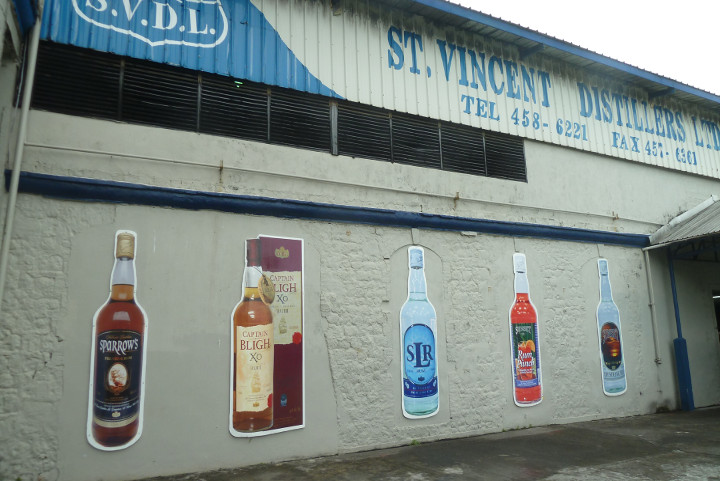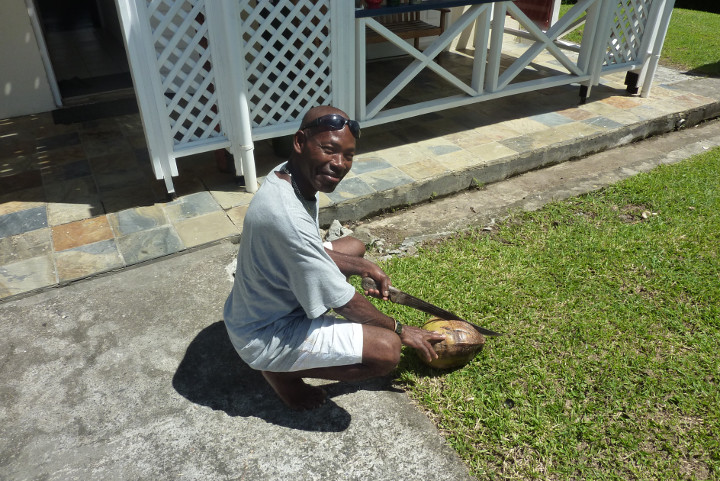 Craig lent a machete and a hand in removing the inner coconut from the outer.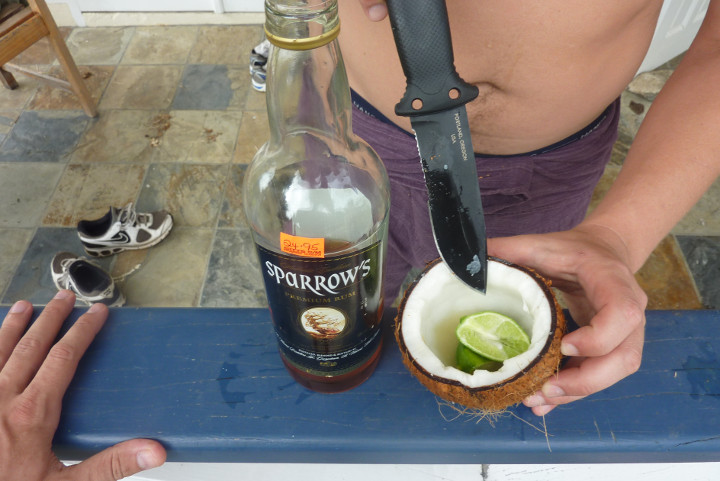 We managed the rest in putting the lime in the coconut.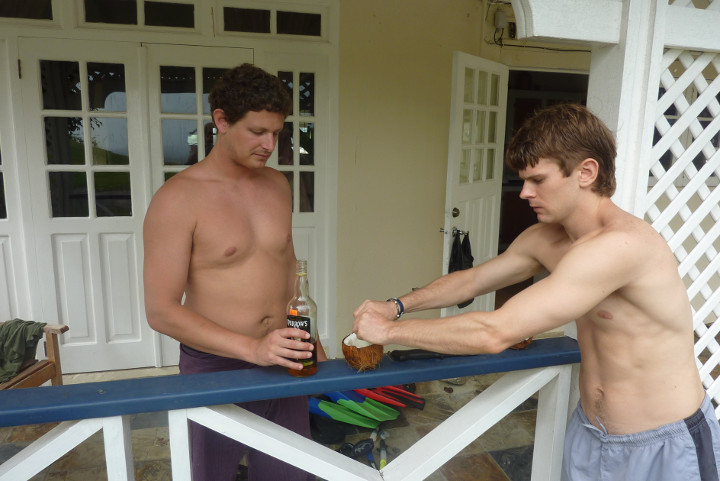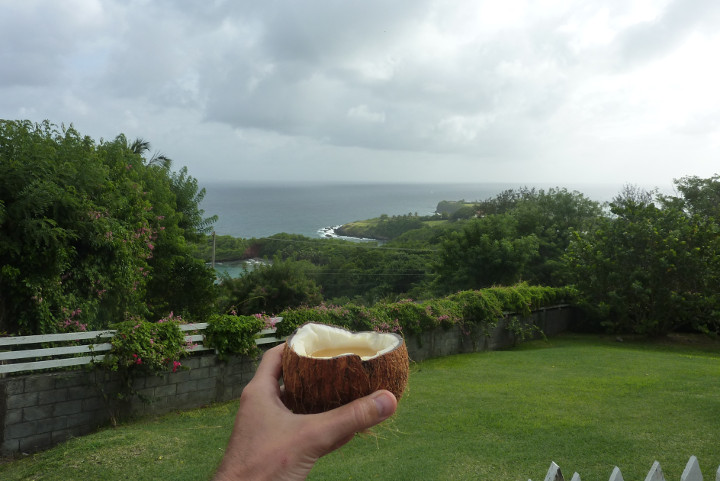 Cheers to you.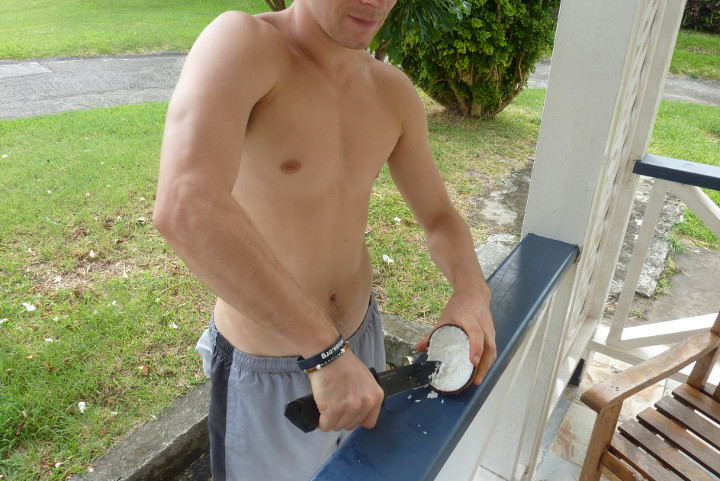 While Steve's visit was all well and good, shortly after marked a defining moment. You see, he was recently engaged and Ashe was to be his best man later that Autumn. The rub was, Ashe had meet the bride to be and listened to Steve talk about her and their relationship during the trip. He told Steve he didn't think it was a good idea to marry the chick, said he didn't support it and declined to be the best man. He thought he was marrying her for the wrong reasons and that he shouldn't settle. That was some of the most keepin' it real I'd ever witnessed to that point in my life. Ashe wasn't just mouthing off talking about being a friend. He was cool, calm, collected, rational, empathetic, courageous and serious. It wasn't easy, but he made it simple. He might not of been there to hold hands, but he stepped up and had his buddy's back. Steve didn't want to hear it, went through with it and they didn't talk for many years. I don't know how the marriage worked out, but for sure this showing of character strengthened my relationship with Ashe because apart from Zane, I was naturally the one he spoke with most about. I saw exactly where he was coming from and I listened and supported him in speaking up.
Through working together on what we thought was the most important thing we could be working on, i.e. Euro Pacific Bank, moving to a couple different countries together, learning about philosophy and self-knowledge and talking to each other every day for months that turned into years, Ashe and I formed the strongest friendship either of us had had. He was always really close with Zane and we formed our own level of brotherhood.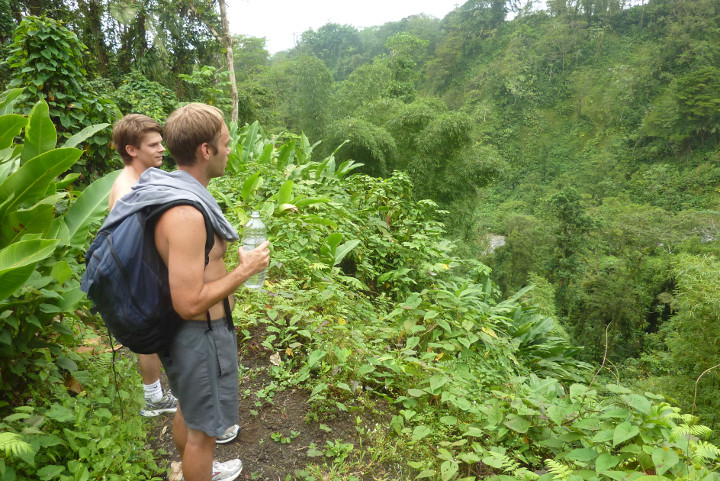 Ashe and I blazed our own trails pretty much side by side from 2012-2015. We grew tremendously on levels we certainly weren't expecting prior to deciding to move to a foreign country with some strangers to work a start up bank. I'm about as old now as he was when we met and I wouldn't be standing where I am today without the guidance he was able to offer me then.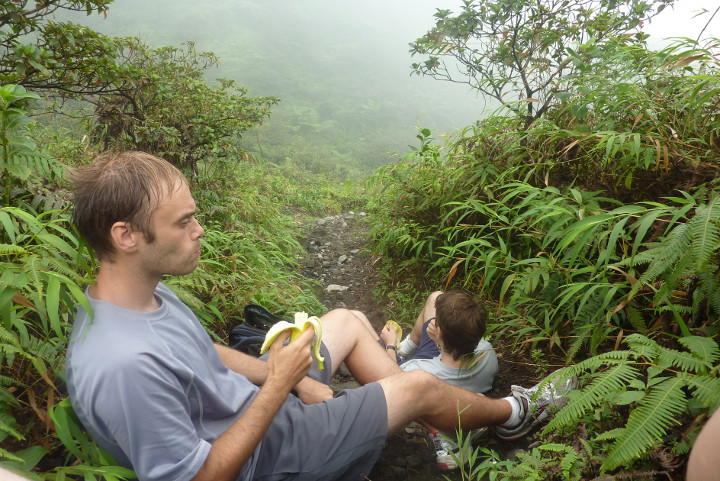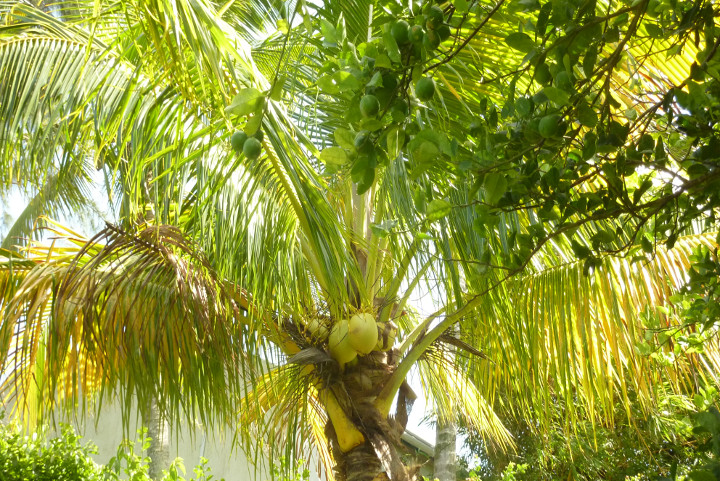 We've grown apart in recent years by focusing on different roots, branches and fruits of the tree of knowledge, yet there remains plenty to reap from natures bounty.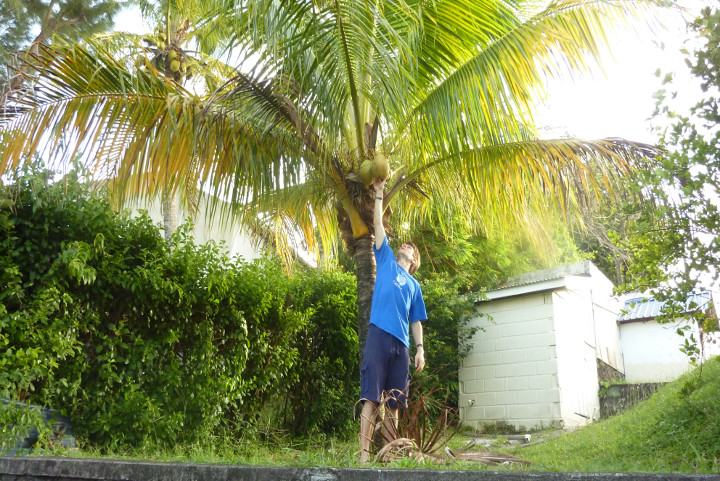 Onward and upward, through the mist and to the peaks above the clouds.